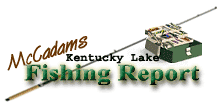 Brought to you by: Fishtale Lodge
Steve McCadams'
Kentucky Lake Fishing Report for:
August 8th, 2003
Anglers are finding Kentucky Lake water levels somewhat above normal this week as heavy rains have been on the radar screen for quite some time. A lot of water has fallen in the TVA valley this past week, keeping the reservoir several inches above normal for this phase of summer.
Observed lake elevation at Kentucky Dam is 358.6 and upstream at New Johnsonville the reading is 358.7. That's several inches above normal for early August.
Crappie, bass, and catfish action is holding up well for most anglers.
Summer crappie patterns have been somewhat different this year due to higher lake levels and an abundance of cloudy days. A lot of fish are staying in the midrange depth zones of 12 to 15 feet.
Deep stakebeds and brushpiles are holding a lot of fish. You'll find several short fish mixed in but there's enough keepers to keep you interested. The activity level there is likely due to the higher lake levels giving the fish and baitfish a comfort zone that would otherwise be in deeper water.
There are some fish on the deeper sides of ledges so those areas are also producing.
The bait of choice is a live minnow and jigs tipped with live minnows or Berkley crappie nibbles. Jig skirt colors appealing most seem to be dull motor oil and clear with metal flake and some chartreuse combinations.
Catfish action has been fair but appears to have slowed down some this week. However, watch for that to improve this next week, as TVA will likely pull a lot of water through the system due to the recent rainfall causing above average elevation.
With the increase in current this weekend and into next week anglers could see some good catfish activity along the main river. Depths of 25 to 40 feet are producing with nightcrawlers and catalpa worms being the most popular baits.
Bass action is still good and several fish are still roaming the shallow weedbeds due to the higher lake levels. Normally the parameter of islands and the backs of bays are too shallow by now to hold many bass but this week has been an exception.
Shallow logs and exposed crappie beds are holding bass. Treetops that have blown over along the make lake shoreline are also worth a cast or two.
Main lake ledges are producing some scattered fish as anglers toss big crankbaits and Carolina and Texas rigged worms. Some anglers are also working jig and pig combos along ledges.
A few smallmouth are showing up but still illusive for most anglers. Compared to last year there have been fewer brown fish taken. Some anglers are working spinnerbaits at night along rip-rap and sloping gravel banks.
Not much happening in the white bass and sauger departments. A few scattered jumps of white bass have been reported but anglers casting spoons and spinners were taking most. Sauger are few and far between with only an occasional catch of one making it to the legal length limit.
Surface temperatures are in the 83 to 86 degree range. Watercolor is dingy in the upper Big Sandy and backs of some Tennessee River bays while the main lake is still relatively clear.
For The Lake Barkley Report
Click Here
Also check out our past:
Kentucky Lake Fishing Reports
Steve McCadams
Steve McCadams is one of the nation's best known Crappie fishermen and a full time resident of Paris Tennessee. Steve is also a professional hunting and fishing guide here in the Paris Landing area.