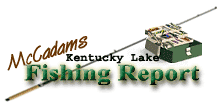 Brought to you by: Fishtale Lodge
Steve McCadams'
Kentucky Lake Fishing Report for:
July 8th, 2005
Anglers are still finding those summer fishing trips on Kentucky Lake well worth the effort as catfish, crappie, and bass continue to bite. And, a few white bass and rockfish are showing up as well.
Surface temperatures are in the 83 to 86 degree range. Lake levels have been stable this past week, lingering around the summer pool mark of 359 throughout the Paris Landing area. TVA will begin its annual draw down in the days ahead so expect to see a slow fall in lake stages in the weeks ahead.
Watercolor remains clear throughout the reservoir, despite a few thunderstorms lately.
Bass action has been fair this week with some larger fish relating to the main lake ledges in 8 to 14 foot zones. Some fish are moving off to the deeper side of the ledges when current is a factor.
There still some bass chasing minnows around shallow weedbeds and river islands where blowdowns are holding baitfish. Spinnerbaits and Texas rigged worms have worked in shallow areas with some topwater producing in the early mornings and late afternoons.
Big deep diving crankbaits in the Tennessee Shad and chrome and blue color combinations have produced some fish too.
Crappie are hitting pretty good for those anglers working the main lake ledges. Productive depths have been 17 to 24 feet with a few scattered fish up in the 14 to 17 foot zones.
Minnows fished on bottom bumping rigs are working well.
Catfish action improved this week and should hold up well in the weeks ahead as TVA pulls current. The edge of the main river channel is holding some decent fish around the 25 to 25 foot depth range.
Baits of choice have been catalpa worms, chicken liver, leeches, and nightcrawlers.
A few white bass and stripers are showing up along the edge of the main river where anglers casting spinners or trolling crankbaits are finding a few. Some sauger are in the same areas too.
Another mayfly hatch will likely occur in the weeks ahead. And, a few anglers report decent action from white bass during night fishing trips. You can beat the heat that way too.
For The Lake Barkley Report
Click Here
Also check out our past:
Kentucky Lake Fishing Reports
Steve McCadams
Steve McCadams is one of the nation's best known Crappie Fishermen and a full time resident of Paris, Tennessee. Steve is also a professional hunting and fishing guide here in the Paris Landing area.