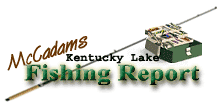 Brought to you by: Fishtale Lodge
Steve McCadams'
Kentucky Lake Fishing Report for:
July 7th, 2006
SUMMER FISHING HOLDING UP
This week's fishing report shows Kentucky Lake's elevation resting around the normal summer pool level of 359. Only minor fluctuations have occurred lately and current in the main river has been minimal.
Surface temperatures are responding to the warm weather with readings in the 82 to 85 degree range across most of the reservoir. Water color remains relatively clear as well.
Crappie continue to move toward deeper zones as surface temperatures warm. There's still a multitude of small fish residing in the 12 to 15 foot depths but most of the larger fish are easing off the flats and top sides of ledges, choosing structure that's on the deep side of the drop-off.
Depths of 14 to 24 feet have been producing this week. Those deep stumps and brush are attracting fish and while there's a lot of small fish out there too, a few more of the larger fish continue to show up there after moving out of midrange areas that held them throughout the month of June.
Live minnows dabbled on double hook bottom bumping rigs are working well for summer crappie anglers. Trolling crankbaits continues to produce too as going back and forth along the ledge will put you in touch with bass, crappie, catfish and even a sauger or two.
Some boats are slow trolling long line jig rigs with moderate success but the fish appear to be in a typical structure-oriented mode for this period of summer.
Somewhat annoying are the always hungry yellow bass who seldom fail to strip your bait or attack a jig. These little rascals are out in force right now and likely on a rampage due to the increase in mayfly larva activity the last few weeks.
A few white bass are showing up so keep the rod and reel combo handy, along with some rooster tails and small spinners and spoons.
Bass anglers continue to find their best fish on main lake ledges and away from shoreline habitat. Tossing the big deep diving crankbaits, along with Carolina rigged lizards and worms, Texas rigged worms in the 9 to 10-inch length, and jig and pig combos are producing.
Shallow weedbeds and river islands with blown down trees are still holding fish when you find the schools of pin minnows. Also worthy of a cast or two are shaded piers and boat docks where a spinnerbait or worm tossed in there will be met with a handshake.
Some topwater action is still underway from anglers throwing buzzbaits and floating worms or jerk baits, especially beneath the mayfly hatches.
Mayfiles continue to be part of the fishing scene as a massive hatch was underway earlier this week across a large portion of Kentucky Lake. Several anglers were tossing ultralight and finding assorted species awaiting the arrival of crickets, worms, and small grub imitations.
Bluegill, bass, redear, catfish, long-ear and green sunfish, along with an occasional pumpkinseed are abundant around the mayfly hatches.
Some anglers are night fishing too for crappie as they attempt to beat the heat.
Catfish have been fair out on the main river but not much current has worked in favor of the fishermen lately. That will likely change as the hot days and power demands increase in the days ahead so watch for improvement in that 25 to 40 foot range on the edge of the main river channel.
For The Lake Barkley Report
Click Here
Also check out our past:
Kentucky Lake Fishing Reports
Steve McCadams
Steve McCadams is one of the nation's best known Crappie Fishermen and a full time resident of Paris, Tennessee. Steve is also a professional hunting and fishing guide here in the Paris Landing area.