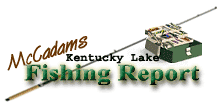 Brought to you by:





July 6, 2011

SUMMER BITE HOLDS…ANGLERS SEE NORMAL LEVELS AND PATTERNS RETURN


Kentucky Lake anglers returned to normal levels the last few days after last week's surge that saw the reservoir jump almost two feet in a short period of time after a series of thunderstorms drenched the region.

It's unusual to see significant fluctuation in elevation during late June and early July as to rising lake stages but that's just what happened and it caught a few bass anglers off guard. Seems some good stringers were taken from visible shoreline habitat for a few days during the rising lake stages at a time when fish are usually falling back to main lake ledges, humps, and sloping points near deeper depths.

Lake levels projected for this weekend will be in the 358.8 range at New Johnsonville. At Kentucky Dam TVA projects readings to be around the 359 range, which is normal summer pool level. Those readings are down almost two feet from last week at this time.

TVA will likely implement its winter drawdown curve as the agency traditionally begins a slow descent in early July. Anglers can expect some current in the days ahead as the schedule will see a gradual drop over the next several months as Kentucky Lake is lowered to create storage capacity during the fall and winter months.

Surface temps this week were resting in the 84 to 86 degree range. Water color remains clear in the main channel and open water areas with a slight stain present around some island rims where wave action has stirred up sediments.

Bass action remains pretty good and ledge fishing has bounced back this week after a short hiatus that saw some influence from rising lake stages last week that pulled some fish away from drop-offs and toward shallow areas.

Falling lake levels in the week ahead will likely improve ledge fishing as some fish that blitzed toward weeds and bushes last week will fall back to main lake venues. Although not all fish will occupy deep water, it's likely action will improve for anglers tossing big deep diving crankbaits, Carolina rigged worms and lizards, Texas rigged worms, and jig and craw combos.

Also worthy of consideration will be swim baits and some spoons that might trigger strikes from sluggish fish.

Seems falling lake stages stimulate the ledge bite as schools of shad become more active once phytoplankton and zooplankton move about. Shad are more active in this scenario and there's movement throughout the food chain as the bass are well aware of the forage base opportunities.

Anglers should see schooling action improve on drop-offs and humps this next week. However, don't turn your back on the shallow bite altogether as there are always some fish relating to shallow structure if schools of pin minnows are located.

An abundance of treelaps or blowdowns are scattered throughout the reservoir as a result of both shoreline erosion and high winds that packed a punch back when high lake levels lingered this spring. Expect to find good fishing around the treelaps that appeal to schools of pin minnows this time of year.

There's a time and place for spinnerbaits and shallow running crankbaits around shallow cover, not to mention those early morning and late afternoon topwater times as the lowlight conditions will work in your favor.

Crappie action is holding up with a few more fish now showing up on the deeper sides of drop-offs out in the main lake. Depths of 17 to 20 feet are giving up a few more fish than last week but some stringers are still coming from midrange structure in 11 to 15 feet.

Anglers working the midrange depths are having to make a few more stops to accumulate hefty stringers but action is not all bad. Vertical presentations of jigs and the jig/minnow combo continue to produce.

Warmer surface temps often see live minnow presentations become more appealing and that seems to be the case as anglers work submerged stakebeds, stumprows, and brushpiles.

Trolling crankbaits has also paid dividends the last few weeks as anglers cover a lot of water with this technique and often tie into some catfish and bass at the same time.

Catfish action improved the last few days, a likely response to increased current in the main channel. Some good fish have been taken beneath Paris Landing bridge pillars and along the riverbank throughout the area as the summer bite heats up.

Baits of choice have been nightcrawlers, chicken liver, shad guts, and assorted commercial stink baits.

Mayflies are showing up at various locations on the reservoir as the hot and humid conditions prior to a thunderstorm seem to signal hatch time. A few bluegill have been taken around docks and piers but some are holding next to overhanging willows on main river islands as the mayfly larva hatch into adult flies.

Kentucky Lake's summer fishing patterns are back to normal now that lake levels are acting right.


Also check out our past:
Kentucky Lake Fishing Reports

Steve McCadams is one of the nation's best known Crappie Fishermen and a full time resident of Paris, Tennessee. Steve is also a professional hunting and fishing guide here in the Paris Landing area.