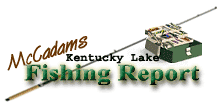 Brought to you by: Fishtale Lodge
Steve McCadams'
Kentucky Lake Fishing Report for:
July 6th, 2007
From the fishing scene comes another pretty good week of summer success for both crappie and bass anglers. A few catfish were coming from the main river channel areas too as mayfly hatches returned for shallow water anglers.
Lake elevation was similar to last week with readings in the 358.3 range at Kentucky Dam. Upstream at New Johnsonville the elevation was reported to be in the 358.2 range. Water color remains clear.
Surface temperatures were resting in the 82 to 85 degree range again this week, although some thunderstorms were delivering short periods of rainfall that cooled things off at times.
Deep water ledges in the main lake continue to give up some pretty good crappie. Anglers working the 18 to 26 foot depth zones are scoring some nice stringers of fish.
Stalking those deep drop-offs where submerged stumps and brush are found will usually produce crappie this time of year with an occasional catfish or bass tugging at the line too.
Live shiner minnows have been producing well. Some anglers are also tightlining jigs and tipping them with minnows.
Most of the decent catches of crappie have come from the main lake ledges but there are still some fish lingering in the 13 to 15 foot zones where stakebeds and brush piles are found. Thereís a lot of small fish in that zone right now but youíll find a keeper now and then as well.
The crappie are pretty much on track as to their typical summer patterns and can be caught by anglers who know how to fish those summer hideouts.
Bass anglers are scoring some hefty stringers as they work the main lake ledges with a variety of lure choices. Most of the bigger fish are being caught by anglers tossing jig and pig combos, big Texas rigged worms, Carolina rigged lizards, and large deep diving crankbaits.
Drop-offs along the main river channel and up Big Sandy have given up some nice bass the last few weeks.
However, the abundance of grass is also worth consideration as schools of pin minnows are attracting some fish to the visible cover. The abundance of aquatic vegetation provides good cover and shade for bass this time of year.
Working a floating worm, topwater jerk bait, spinnerbait, or weedless lure of choice can yield some fish. Practically every bay and river island flat has grass on it right now so finding the grassbeds are not a problem.
Some white bass action has been reported with scattered jumps at best. A few anglers are trolling for sauger and catching a combination of white bass while pulling the deep diving crankbaits along main lake ledges.
Catfish action has been fair but there hasnít been much current lately and that has likely curtailed the catfish bite. Some days there are boats working the edges of the main river channel but action there has been inconsistent.
Mayfly hatches were scattered throughout the Paris Landing area earlier this week with some flies reported up around the Danville islands and down toward White Oak creek. The hatches should continue for a few more weeks so keep the light spinning rod and flyrod handy as bluegill await your arrival.
For The Lake Barkley Report
Click Here
Also check out our past:
Kentucky Lake Fishing Reports
Steve McCadams
Steve McCadams is one of the nation's best known Crappie Fishermen and a full time resident of Paris, Tennessee. Steve is also a professional hunting and fishing guide here in the Paris Landing area.