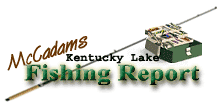 Brought to you by: Fishtale Lodge
Steve McCadams'
Kentucky Lake Fishing Report for:
July 4th, 2008
CRAPPIE/BASS ANGLERS HAVE ANOTHER GOOD WEEK
Kentucky Lake anglers continue to score good stringers of both bass and crappie as the summer fishing scene holds up well.
A few windy days entered the picture late last week and a cool front made it feel like early fall for a day or two but by midweek light winds returned with pleasant conditions overall.
Presently, surface temperatures are in the 82 to 84 degree range, having cooled slightly since last week. Water color remains clear.
Observed lake levels were in the 358.8 range at both Kentucky Dam and New Johnsonville this week. Lake levels were up slightly from last weekend.
Crappie fishing continues to hold up well, although a couple of windy days diminished productivity as anglers were limited as to where they could go. After gale winds faded fishing bounced back quickly as some hefty stringers were taken in a variety of depths.
There are still a lot of fish lingering in the deep stake beds and brush piles. Depths of 12 to 15 feet were giving up good numbers as anglers vertical fished jigs tipped with minnows.
Main lake ledges are also producing as several crappie continue to move toward deeper summer patterns and occupy those 18 to 24 foot zones where brush and stumps are located.
I changed over at midweek from fishing deep stakebeds to some main lake drop-offs and found fish waiting with open arms. Crappie were really holding around structure in the 20 to 22 foot zone and nailing minnows and jigs dunked in their locale.
Several times a hefty catfish also bowed the pole and stretched the line for a bit of a surprise after some light bites from crappie in the same spot. Also showing up on those deep ledges are a few sauger and bass.
Expect to catch a wide range of sizes mixed together but hey, that means several year classes are out there so cull the small ones and enjoy the big ones!
Watch for those deeper drop-offs to continue to produce in the weeks ahead as crappie migrate to their summer hideouts as surface temps rise and the baitfish head deep.
Bass fishing is still good and while it may sound like a broken record the hefty stringers continue to come in on a consistent basis as Kentucky Lake has been on a roll.
Some bass anglers report catching 40 to 50 fish a day. Others are marveling at the bass fishery out there right now and how heavy the winning stringers are in weekend tournaments.
Most all winning stringers have averaged over four pounds lately. A lot of anglers have enjoyed catching fish whether they won or even entered a tournament.
Patters continue to credit the main lake ledges in depths ranging from 10 to 20 feet as some days the cloud cover has fish up on top and feeding while other times the fish fall back to occupy the deeper sides of ledges.
Carolina rigged worms and lizards are still popular as are jig and pig combos. Texas rigged worms are producing with some anglers choosing to use those 9 to 10-inch worms in hopes of landing larger fish and bypassing the abundance of small bass out there right now.
Crankbaits are definitely holding their own as those shad colored variations are paying off.
While the bigger stringers are coming from ledges plenty of fish remain in the grassbeds and shallow areas around river islands where a lot of pin minnows are holding on blow downs and grassbeds.
Tossing a spinnerbait, along with a variety of topwater or some rattle traps will definitely fool a few into biting.
There is an abundance of small bass roaming the banks and pretty much everywhere. I cannot recall catching this many small bass while crappie fishing as most days my boat has landed 25 to 30 small largemouth and spotted bass while vertical jigging over manmade stakebeds.
It appear we have several year classes of bass coming on so it appears the future of bass fishing is bright here on Kentucky Lake.
Some catfish continue to show up in midrange depths but will be moving more toward main river areas in the weeks ahead as surface temps heat up and lake levels fall.
Mayfly hatches were underway in several areas this week so watch for more shallow shoreline action for bluegill and bass as the flies fall to the water from those overhanging trees.
For The Lake Barkley Report
Click Here
Also check out our past:
Kentucky Lake Fishing Reports
Steve McCadams
Steve McCadams is one of the nation's best known Crappie Fishermen and a full time resident of Paris, Tennessee. Steve is also a professional hunting and fishing guide here in the Paris Landing area.