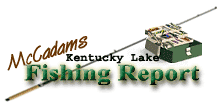 Brought to you by: Fishtale Lodge
July 29, 2010


The summer fishing scene on Kentucky Lake is pretty much on schedule as to lake levels, surface temps, and patterns. While warm weather is the norm and some days have been above normal lately, the early morning hours have been productive and quite tolerable.

Lake levels continue a slow decline as TVA's curve for reservoir drawdown begins in early July and is on schedule. Readings this week have been in the 358.1 range around New Johnsonville Steam Plant and 358.3 at Kentucky Dam. Readings are down slightly from last week at this time.

Surface temps remain in the 87 to 90 degree range. Water color is clear throughout the reservoir with slight stain in the upper end of some bays from thunderstorm runoff.

Warm weather bass fishing is holding up for a lot of anglers who are hitting the lake in the early morning and late afternoon hours. Reports continue to come in from activity in both deep and shallow water patterns.

A few fish were coming from shallow weed patches, lilies and other aquatic vegetation where pin minnows were found. The key to those shallow fish is finding the schools of minnows which often relate to any structure which provides refuge.

From blown down treelaps to grass and exposed crappie beds and boat docks, the shallow pattern is holding on to a few fish that are active in lowlight conditions. Shallow running crankbaits, spinnerbaits, Texas rigged worms, and some topwater jerk baits or buzzbaits fished over grass are still producing strikes.

Some mayflies were showing up earlier this week along the main river islands and shorelines where bass and other species were partaking of the natural buffet.

Drop-offs are producing summer bass and are popular during warm weather, especially if current is present. Big worms rigged Texas style were working such as Berkley's Power Bait 10-inch style in the plum, blue fleck, and pumpkin pepper colors.

Carolina rigged worms and lizards continue to work well. Storm's Brush Hog series in the green-pumpkin pepper, cotton candy, and Tequila Sunrise colors have been popular choices.

Jerking jig and pig combos is working too when fished with a craw trailer. Also, some swim baits in shad colored variations have accounted for strikes when bass were schooling over ledges as have some Hopkins spoons.

White bass schools have been scarce around the Paris Landing area and not much surface activity has been seen. Traditionally, the early August time frame sees an increase in action but the once popular summer feeding frenzies are just not there like they used to be.

Finding these aggressive gamefish in the jumps makes the wait worthwhile, however, as once these babies turn on it's about as fast and furious as it gets.

Crappie have been showing up on main lake ledges where anglers are working the deep sides of ledges in the 17 to 24 foot zones. Bottom bumping rigs fished with live minnows has worked best as probing that deep structure is the norm.

A few fish continue to linger in 12 to 15 foot zones around stakebeds. Dunking jigs in the submerged cover has worked fair and better when tipped with a minnow or some sort of fist attractant.

There have been a few reports from night fishermen finding crappie beneath the lights. Anglers can beat the heat that way, anchoring over main lake ledges or deep brushpiles while using floating lights or lanterns. Attracting the baitfish to the light usually draws the crappie as well.

A few catfish have been taken around the Paris Landing bridge piers when current is present. Not many anglers are working the edge of the main river channel lately but that should improve on the days when current enters the picture.

With TVA's drawdown curve underway added to the power demands anglers should see current present on a regular basis.

Despite the hot weather anglers are finding some fish but most are avoiding the midday hours when the sun is high and the interest level of the fish is low.


Also check out our past:
Kentucky Lake Fishing Reports

Steve McCadams is one of the nation's best known Crappie Fishermen and a full time resident of Paris, Tennessee. Steve is also a professional hunting and fishing guide here in the Paris Landing area.