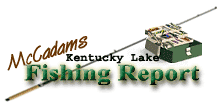 Brought to you by: Fishtale Lodge
Steve McCadams'
Kentucky Lake Fishing Report for:
July 29th, 2005
This week's fishing scene hasn't been all bad, despite the hot weather that has dominated the outdoor arena for the past two weeks. A light breeze has been a blessing for anglers as the early morning hours have been quite tolerable when mixed with a little cloud cover.
I got back on the water this week after spending last week in Las Vegas at the American Sport Fishing's annual ICAST tackle trade show. There it was 117 degrees the first two days, tying the all time record high. Returning to Tennessee's 95 to 98 degree weather Monday and Tuesday didn't seem all that bad!
Cooler conditions are in the forecast for anglers headed into the weekend. That should make a few hours each morning or late in the afternoon feel better out on the lake.
With the recent rash of hot weather, surface temperatures have climbed into the 89 to 91 degree range on Kentucky Lake.
Observed lake elevation at Kentucky Dam is in the 358 range. Upstream at New Johnsonville the lake level was slightly lower at 357.9. Lake stages are falling slowly this week and a few inches lower than last week at this time.
Watercolor remains clear throughout most of Kentucky Lake.
Crappie continue to bite along the main lake ledges where live minnows fished on bottom bumping rigs are producing. Productive depths have been 18 to 24 feet. Those stumps and brushy areas on the break and on the deep side of the shelf are holding fish.
I found a few good fish in the 22-foot zone this week. There's a lot of small fish mixed in with them as several days the boat has caught and released 50 to 75 small fish, which ranged from small crappie to feisty yellow bass that always seem to posses an appetite.
Some catfish, largemouth bass, and a hefty drum now and then help straighten out the kinks in the line too!
Bass continue to relate to main lake ledges but there are a lot of minnows around grass and boat docks where some shallow fish can be taken now and then. Spinnerbaits and Texas rigged worms are accounting for most of the shallow fish with an occasional topwater strike early in the morning or late in the afternoon. Some fish were taking a buzzbait over grass, along with a floating worm.
Out on the ledges bass continue to take Carolina rigged worms, Texas rigged presentations and big crankbaits. Some anglers are still hopping a jig and pig combo too out there in deep water.
A few smallmouth were showing up on main lake ledges too as anglers worked finesse baits and crankbaits.
Night fishing has produced some bass too as anglers work spinnerbaits along sloping banks and main river ledges.
Catfish action has been fair along the Tennessee River's channel in depths of 25 to 40 feet. Some current was present this past week and that always helps stimulate baitfish activity and ultimately, the movement of catfish.
Nightcrawlers, catalpa worms, and chicken liver have produced some decent stringers lately.
White bass are showing up in scattered jumps but surface activity has been inconsistent. Watch for improvement in this department in the weeks ahead and lower lake levels increase sightings of surface action.
Mayfly hatches are still occurring every week or so but not as frequent, or as abundant, as they were a few weeks ago.
Cooler weather is already here compared to last week. Rising early helps beat the heat and if you're fortunate to have a light breeze then it's not too bad out there right now. And, night fishing is another option for both bass and crappie anglers.
For The Lake Barkley Report
Click Here
Also check out our past:
Kentucky Lake Fishing Reports
Steve McCadams
Steve McCadams is one of the nation's best known Crappie Fishermen and a full time resident of Paris, Tennessee. Steve is also a professional hunting and fishing guide here in the Paris Landing area.