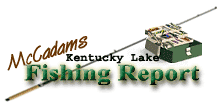 Brought to you by: Fishtale Lodge
Steve McCadams'
Kentucky Lake Fishing Report for:
July 23rd, 2004
Lake levels have dropped since last week along Kentucky Lake but lake stages are about normal for this period of the summer.
TVA is predicting a reading of 358.2 this weekend at New Johnsonville. Downstream at Kentucky Dam the reading is slightly higher with a prediction of 358.4. Lake levels are expected to be stable throughout the weekend.
Surface temperatures remain in the 84 to 87 degree range. Watercolor is relatively clear in both the Big Sandy and Tennessee River areas.
Catfish continue to top the list this week on Kentucky Lake. Anglers are still finding good fishing along the edge of the main river channel in the 25 to 40 foot depth range.
Tightlining rigs that bump bottom have accounted for some good stringers lately but there's still a lot of catfish being caught on trotlines and jugs. Popular baits have been catalpa worms, nightcrawlers, leeches, and chicken liver.
A slow current this week has been in favor of catfishermen working the deep-water venues along the main Tennessee River.
Crappie have been fair as a few fish were taken this week in the depths of 18 to 24 feet. Main lake ledges are paying off best where submerged stumps and brush is located.
A few white bass are showing up but surface activity has remained slow. Not many fish are breaking the surface but a few fish have been taken as anglers cast Rooster Tails and spoons.
Bass action is fair with a few more fish showing up on main lake ledges since lake levels are lower. Much of the shallow shoreline structure and islands are too shallow to hold many fish since the reservoir began falling last week.
Carolina rigged worms and lizards, along with some large crankbaits have produced this week as have jigs worked along the drop-offs in 10 to 14 foot zones.
A few largemouth and smallmouth were taking small jigs and crankbaits cast on main lake ledges too. Night fishing is picking up some for bass anglers too as the hot weather continues to have an effect.
Some bluegill are still hitting around boathouses and bridge piers where mayflies are hatching.
For The Lake Barkley Report
Click Here
Also check out our past:
Kentucky Lake Fishing Reports
Steve McCadams
Steve McCadams is one of the nation's best known Crappie Fishermen and a full time resident of Paris, Tennessee. Steve is also a professional hunting and fishing guide here in the Paris Landing area.