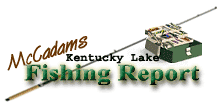 Brought to you by: Fishtale Lodge
July 22, 2010

Topping the fishing scene this week is possible record bass catch taken last Saturday on Kentucky Lake. The lunker largemouth weighed 12 pounds, 11 ounces and was caught by Maury County angler Tom Hammon while fishing a buddy tournament out of Masonís Dock, which is located in Humphreys County.
Details are still emerging on the trophy catch which could be a record for Kentucky Lake.
Lake levels have been falling slowly this week as TVA continues its gradual drawdown. Elevation will be in the 358.2 range this weekend in the New Johnsonville area. Kentucky Dam area is slightly higher with readings projected to be in the 358.6 range.
Elevation is down a few inches from last week at this time. Surface temps are in the 86 to 89 degree range. Water color is clear in most of the main lake area with some scattered patches of stained water where wind has stirred up some sediments.
Falling lake levels have pulled shallow bass out of weedbeds and buck bushes in the backs of creeks and along river islands this week. A lot of pin minnows were still roaming shallow structure but the fish have had to pull out to slightly deeper cover such as treelaps and some deeper crappie beds.
Not much aquatic vegetation is present but falling lake stages may expose some in the weeks ahead.
Main lake drop-offs are still producing fish for anglers tossing Carolina and Texas rigged worms and lizards. Also, jig and pig combos are paying off as are some swim baits worked on the drop-offs where a few fish are schooling.
Big crankbaits are producing some fish as well. Ledge fishing should hold up this week as falling lake levels and hot weather team up. However, some piers and docks near deeper water are providing shade and refuge and producing fish.
Crappie have been fair in the early morning and late afternoon periods where most anglers are concentrating on ledges. Depth ranges of 17 to 22 feet have given up a few scattered fish.
Live minnows fished on double hook bottom bumping rigs have been popular but some boats are slow trolling deep diving crankbaits too.
Night fishing has appealed to a few crappie and bass anglers trying to beat the heat.
Current is present in the main river which is working in favor of both bass and catfishermen. The edge of the main river channel in the 25 to 35 foot depth is holding some catfish.
Not much going on for white bass and mayfly hatches have been inconsistent for bluegill fishermen.

Also check out our past:
Kentucky Lake Fishing Reports

Steve McCadams is one of the nation's best known Crappie Fishermen and a full time resident of Paris, Tennessee. Steve is also a professional hunting and fishing guide here in the Paris Landing area.