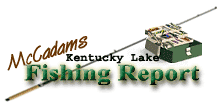 Brought to you by:





July 21, 2011

HOT WEATHER FISHING HOLDS UP WELLÖBASS/CRAPPIE BITE CONTINUES


Although the weatherman has been painting a dismal picture for outdoor activity during the recent heat wave not all the news is bad for Kentucky Lake anglers as decent catches are showing up for dedicated anglers.

Crappie continue to bite with some decent size fish showing up this week. Catfish have been on the prowl too as a steady but light current is present in the main river channel and that stimulates movement of baitfish.

Ledge fishing has been decent for bass anglers who are playing the summer pattern of drop-offs with a variety of lures. A few local anglers have weighed in some 19-pound plus stringers this week in tournaments so hot weather has not curtailed the bass bite either.

Some light winds have worked in favor of fishermen this week and the early morning trips have been quite tolerable. Iíve been on the lake several days and it hasnít been too bad despite the doom and gloom reports from weather forecasters who seem to dwell on the extremes and make it sound like going outdoors is risking your life.

Lake levels are down a few inches from last week at this time as TVA continues its slow descent. Projections for the weekend indicate lake stages at Kentucky Dam will be in the 358.2 range. Upstream at New Johnsonville the elevation will be slightly lower at 358.2.

Surface temps warmed into the 89 to 91 degree range, which are the warmest readings of the summer thus far. Water color remains relatively clear.

While most anglers have a tendency to think extremely deep depths are the answer to summer fishing thatís not always the case for crappie and bass. Sometimes the midrange to shallow areas are still holding fish as oxygen levels there may be a bit better than deep water and bait fish may well be residing in such locales.

While a few anglers are night fishing under lights for crappie or tossing spinnerbaits and worms around rip-rap levees and sloping gravel banks near the main river, day fishing is still producing with the early morning and late afternoon time frames paying off best.

No doubt the fish are light sensitive in clear water conditions so midday bites may slow down in shallow to midrange depths.

I found a few good size crappie this week still holding on stakebeds and some brushpiles in the 11 to 14 foot zones. Fish were scattered but some were still biting in just about every stop with the most productive areas being near deep drop-offs.

Bites were light and you have to hold the bait still and tight to cover but the fish are there. Baits of choice were a 1/32 to 1/16-ounce jig tipped with either a minnow or Berkley Power Bait nibble. I caught a few fish on just a jig but it was evident the fish preferred some type of supplement.

Tying into a bass or catfish has added another dimension to the summer crappie trips as the hefty fish will quickly test your tackle and knot tying ability.

Some deep brushpiles in the 18 to 22 foot depth range also produced crappie. I tried some double hook bottom bumping rigs armed with live minnows and the fish responded well. A lot of small fish were relating to the ledges but mixed in there with them were some nice keepers.

Catfish were relating to the edge of the main river channel as the slow current was appealing to their summer hideouts in depths of 25 to 40 feet. A few fish were taken around the bridge piers at Paris Landing as anglers worked the down current sides where fish were lying in submerged eddies waiting for baitfish to wash their way.

Popular bait choices continue to be shad, nightcrawlers, chicken liver, catalpa worms, and some commercial variations. Most anglers are bumping bottom with their presentations.

Summer bass action has been fair this week, although weights have diminished somewhat in local tournaments compared to a few weeks earlier. Still, decent numbers are showing up for anglers working main lake ledges with big shad colored crankbaits, Carolina and Texas rigged worms, jig and crawfish combos, and some spoons.

Some schooling fish are showing up at times, chasing shad toward the shallow sides of sandbars. Surface activity has been seen at several locations as a feeding frenzy occurred when the shad made a last ditch effort to escape.

Mixed with the bass have been a few white bass and yellow bass at times who shared the schooling session when bait fish were ambushed.

Although some grass has been reported further south on the reservoir most bass anglers working the area from New Johnsonville north up to Paris Landing and further into Kentucky waters have not reported any patches of milfoil showing up.

Although mayfly hatches this week have been scarce, watch for scattered hatches to continue throughout the summer, bringing bass and bluegill toward shallow areas in search of the abundant food source.

Summer fishing hasnít been too bad and if you use common sense it can be quite enjoyable. Dress in light clothing, apply sunscreen, and keep plenty of water in the boat. Schedule your fishing trips in the early morning hours if possible and yield to the midday heat when iced tea starts calling!


Also check out our past:
Kentucky Lake Fishing Reports

Steve McCadams is one of the nation's best known Crappie Fishermen and a full time resident of Paris, Tennessee. Steve is also a professional hunting and fishing guide here in the Paris Landing area.