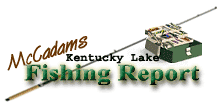 Brought to you by: Fishtale Lodge
Steve McCadams'
Kentucky Lake Fishing Report for:
July 21st, 2006
HOT WEATHER DOMINATES FISHING SCENE…SOME FISH STILL HITTING
Hot weather has dominated the fishing scene this week but it appears anglers will get a break this weekend as cooler conditions enter the forecast.
This week's fishing report has been dominated by high humidity and temperatures that teamed up to challenge anglers on Kentucky Lake. Despite the doom and gloom reports from weather forecasters, conditions have not been all that bad in the early morning hours when cloud cover and a light breeze were present.
Cooler conditions in the days ahead will stimulate enthusiasm for fishermen who have been somewhat scarce on the lake this week.
Presently, Kentucky Lake continues to fall slowly as to lake stages on TVA's curve for winter drawdown. Observed elevation in the Paris Landing area has been in the 358.2 range the last few days. Readings are similar at Kentucky Dam and New Johnsonville area but the reservoir will likely have readings falling to the 358 range by new week.
Surface temperatures reflect the above normal readings in the heat index this week as a few days my Lowrance LCR showed 86 to 89 degrees. On Tuesday I actually found some water reaching the 90 degree mark!
In my 33 years of guiding on the lake I have only seen surface temperatures eclipse the 90 degree mark two or three times. And, usually that occurs in mid August and not mid-July. Al Gore may be on to something here!
Meanwhile, water color remains clear throughout most of the reservoir as very little runoff has occurred from minor thunderstorms.
In spite of the heat several species are showing some interest in the early morning and late afternoon periods.
Bass continue to reside on main lake ledges where slow crawling Carolina rigged worms and lizards are fooling some fish. Jig and pig combos are also producing some strikes as are the ever popular deep diving crankbaits.
Texas rigged worms are working too in both shallow areas and on drop-offs. Popular color choices have been tequila sunrise, red shad, June bug, pumpkin pepper and black with red glitter.
Some anglers are taking a night approach to summer bass fishing in hopes of beating the heat and perhaps catching some smallmouth moving up on the sloping gravel bars or rock banks. However, successful reports have been scarce but slow rolling those big spinnerbaits can sometimes pay dividends.
White bass are showing up but surface action has been scattered here in the Paris Landing area. Unpredictable best describes the stripes but conditions have been favorable as those hot days and calm winds make it easier to see schools of shad roaming the main river areas.
Some surface action was seen up near the Kentucky-Tennessee stateline on the east side of the reservoir and further south near Piney campground. Further south near Hwy 79 bridge and near the mouth of Leatherwood have also shown signs of activity this week but the fish are not staying up for long periods.
Casting Rooster tails, spoons, and chrome colored Little George spinners have fooled a few fish when they go down deep. Trolling has also produced some fish from those main river sandbars.
Crappie are still hitting in some deep manmade structure such as brushpiles and stakebeds in the 12 to 14 foot zones. I fished deep ledges earlier in the week but action was slow in the 18 to 25 foot zone. I backed up to midrange depths and found some fish taking jigs tipped with minnows.
Sometimes the dissolved oxygen levels can be better for fish in midrange depths in hot weather than those deeper venues. While this could be the case now, it also depends on the baitfish activity but added to the fishing scenario right now is another big hatch of mayflies.
Mayfly carcasses were abundant this week all along the surface and flies were out by the millions in the Paris Landing area so the fish have a buffet of baits at this disposal, which can sometimes be tough competition for bass and crappie anglers for a few days.
Current is present in the main river by mid-morning on most days and that should work in favor of summer catfish success. Some anglers are braving the heat this week and drifting with the current along the main river channel while bumping bottom in the 25 to 40 foot zone.
Nightcrawlers, chicken liver, leeches, and catalpa worms have been the popular baits for catfish this summer.
Some scattered sauger are showing up from the deep ledges but very few people are trolling for them.
Also some stripers continue to make their presence known as they are mixed in with some white bass and also roaming the main lake ledges where they encounter a bass or crappie angler now and then. They sure get the kinks out of that line when they hit too!
For The Lake Barkley Report
Click Here
Also check out our past:
Kentucky Lake Fishing Reports
Steve McCadams
Steve McCadams is one of the nation's best known Crappie Fishermen and a full time resident of Paris, Tennessee. Steve is also a professional hunting and fishing guide here in the Paris Landing area.