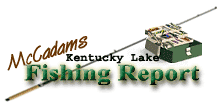 Brought to you by: Fishtale Lodge
Steve McCadams'
Kentucky Lake Fishing Report for:
July 2nd, 2004
MAYFLY HATCHES UNDERWAY…SUMMER CRAPPIE, CATFISH AND BASS ACTION GOOD
This week's Kentucky Lake fishing scene has seen rising lake levels as crappie, catfish, and bass action continues to hold up well.
Lake levels rose to about a foot above summer pool stage at midweek. New Johnsonville reported readings of 360 on Wednesday and Kentucky Dam was reporting 359.9. Heavy rains to our south have apparently contributed to the rising reservoir.
However, TVA indicates lake levels are falling now and should continue falling throughout the weekend until the reservoir is pulled back down to summer pool readings of 359. Anglers can expect a lot of current in the main Tennessee River channel this weekend and early next week.
Surface temperatures remain in the 82 to 84 degree range. Big Sandy continues to have clear water while dingy color is present throughout most of the Tennessee River area due to a high volume of water flushing through the system this week.
Speaking of current, catfishermen should see positive results for the next week or so as the cats go on prowl along the Tennessee River channel banks. Current should really stimulate catfish movement as the baitfish move around more and close on their trail will be hungry catfish.
Depths of 20 to 35 feet have been producing. The big three baits of choice continue to be nightcrawlers, leeches, and chicken liver. Soon the catalpa worms will be out and that's another great source of catfish bait.
Crappie are still hitting good as the cloudy days have kept some decent size fish up in that 12 to 15 foot zone. There's still a lot of small fish there with them but you can cull the young ones and find some dandies mixed in with them.
It appears a few more fish have moved off the flats and now residing on the deep sides of main lake ledges this week. The deep sides of the drop-offs in 17 to 24 feet were producing some fish as anglers worked live minnows and jigs there on bottom bumping rigs.
This is the time of year when you'll also tangle with a catfish, sauger, whitebass, or a largemouth while you're dunking that crappie rig too! That always wakes you up and straightens out the kinks in that light line!
Overall, summer crappie fishing is holding its own.
Bass anglers are still finding fish both shallow and deep as pin minnows running the islands and shoreline weedbeds are attracting fish. And, several treelaps on the main river shorelines are holding baitfish and bass.
Current has also been a factor this week for anglers working island points and main lake ledges as it often helps put the baitfish on cover. The minnows hide behind structure in an attempt to get out of the current, making it easier to pattern the whereabouts of bass.
Shallow patterns have been working for anglers tossing floating worms and flukes, spinnerbaits, and topwater jerk baits. Pitching a jig or Texas rigged worms has worked too.
Main lake ledges have given up some bass this week too as anglers continue to toss Carolina rigged lizards and worms. And, the big deep diving crankbaits such as Poe's 400-series and Norman's Deep N-20 Plus have produced too.
A few good smallmouth have been showing up too as those main lake sandbars where current is present seem to stimulate activity from the bronzebacks. Small inline spinners, crankbaits, and hair jigs have worked on smallmouth as have some spoons and Roadrunner style baits.
Although not a lot of reports this week, there are a few anglers already trying the night bass fishing routine. Watch for that to improve as the doldrums days of summer continue.
Mayfly hatches are still very much in fashion as both bluegill and bass are feasting on the buffet. Watch for continued hatches this week as these hot days and thunderstorms really seem to stimulate the mayfly hatches.
There was another good hatch at midweek in the Paris Landing area with some flies reported up near the old Danville railroad bridge area as well.
A few anglers are trolling the main riverbank in hopes of finding sauger and white bass. Action has been somewhat slow with a few fish showing up in the early morning and late afternoon periods.
There's still some stripers hitting too as those deep diving crankbaits appeal to the feisty fish who love the open water sandbars where current is present.
Not much to report in the whitebass department as very few sightings of surface activity have occurred. Some anglers are picking up a few scattered white bass when trolling while others are finding some under the lights as night fishing becomes more popular.
It's going to be a busy boating weekend ahead so be cautious out there and watch out for the other boaters…and jet skies!
For The Lake Barkley Report
Click Here
Also check out our past:
Kentucky Lake Fishing Reports
Steve McCadams
Steve McCadams is one of the nation's best known Crappie Fishermen and a full time resident of Paris, Tennessee. Steve is also a professional hunting and fishing guide here in the Paris Landing area.