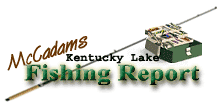 Brought to you by: Fishtale Lodge
Steve McCadams'
Kentucky Lake Fishing Report for:
July 18th, 2003
Fishing on Kentucky Lake is holding up quite well. Bass anglers are finding some good stringers in a variety of depths and patterns while catfish and crappie action is well worth the trip.
Observed lake elevation this week at Kentucky Dam was 358.3. Upstream at New Johnsonville lake stages were similar with a reading of 358.2 predicted for the weekend by TVA. Lake levels are falling slowly as TVA's curve for annual drawdown is now underway.
Surface temperatures are in the 83 to 85 degree range. Water color remains clear throughout the Big Sandy with some stain in the upper end near the gravel pits and into West Sandy.
Some stained water can be found along the main river and islands but bays are clear as the slow falling lake levels have pulled most of the dingy water out of secondary bays and pockets.
Bass action is good. Anglers are finding fish still chasing the schools of pin minnows in shallow cover. Logs, treelaps, and outside grassbeds are producing a lot of bass. Some buck bushes are holding fish too but the falling lake levels will soon be too shallow.
Points of islands on the main Tennessee River have been holding bass and shallow water action has been good on cloudy days as anglers toss spinnerbaits, worms, and some surface baits.
Main lake ledges continue to produce some good fish too. Anglers are casting big crankbaits on the drop-offs. And, big crankbaits, Carolina rigged worms, Texas rigged worms, and jerking a jig and pig combo have also accounted for some good fish.
Some good smallmouth have been taken this week by anglers working the main lake ledges. The bronzebacks have been taken on Carolina rigged lizards, crankbaits, and some jigs.
A few anglers are testing the water at night as hot weather arrives. However, only a few scattered success stories have emerged from anglers working spinnerbaits along sloping gravel banks on the main Tennessee River.
Summer crappie are hitting on the main lake ledges. Depths of 18 to 24 feet were giving up some decent stringers this week as anglers work live minnows along the deep sides of ledges using a tightline rig.
Catfish action is still holding up well as anglers work the main river bank in depths of 25 to 40 feet. Current has been a factor this week and should continue to work in favor of catfishermen.
Catalpa worms, nightcrawlers, liver, and leeches have been working well. Look for catfish action to hold up well in the weeks ahead.
A few bluegill are lingering around the main river islands and steep banks where some mayfly hatches are still underway.
Scattered sauger are still showing up now and then as some anglers troll deep diving crankbaits along main lake sandbars in 10 to 14 feet. A few white bass are out there too.
For The Lake Barkley Report
Click Here
For Other Kentucky Lake Fishing Reports
Click Here
Steve McCadams
is a professional hunting and fishing guide here in the Paris Landing area and host of The Outdoor Channel's television series IN-PURSUIT.