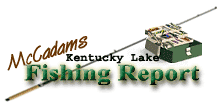 Brought to you by: Fishtale Lodge
Steve McCadams'
Kentucky Lake Fishing Report for:
July 16th, 2004
Fishing on Kentucky Lake this week continues to hold up well for catfish anglers. Crappie and bass are still hitting too.
Warm weather has been the story this week as summer has made its presence known. However, the early morning outings haven't been too bad as cloud cover and a light breeze helped make fishing conditions tolerable.
Kentucky Lake has been above normal summer pool all week but lake levels are falling slowly now and should continue that trend through the weekend and into next week.
Observed elevation at New Johnsonville was 359.1 and falling. Elevation at Kentucky Dam was 358.9 and falling.
Surface temperatures were in the 84 to 86 degrees this week.
Watercolor remains clear throughout the Big Sandy embayment while the main Tennessee River area has some stain.
I found some decent size crappie on main lake ledges earlier this week. Depths of 19 to 25 feet were producing pretty good as live minnows were the bait of choice, present on double hook bottom bumping rigs.
At midweek, things changed somewhat as there was no current in the main river and the fish seemed to take on a sluggish attitude compared to earlier in the week. Lake levels, which have been several inches above normal for this time of year, likely attracted some crappie back to midrange depths of 13 to 15 feet.
A few other guides using jigs tipped with minnows took a few fish at midweek in midrange stakebeds and brushpiles.
Watch for the deeper sides of the ledges to resume productivity as lake levels fall in the days ahead and pull fish back to the deeper summer hideouts.
Catfish have been hitting good this week and several days my clients have tied into some hefty ones that bent the rod double. Each day the boat has tied into three to five catfish invading the deep ledges and sharing structure with crappie, bass, yellow bass rockfish, white bass, sauger, and drum.
A couple of our cats made it to the 10 to 15–pound range, which really gives you a thrill on light rods.
Meanwhile, anglers testing the deeper water along the main Tennessee River channel are having success. I've seen several nice catches coming from the 25 to 40 foot range.
A few anglers are still tossing out jugs and letting them drift in the wind. This has paid off too as several fish are roaming the flats when current is present. Jugs set at 10 to 12 feet fished over 15 to 20 foot depths have produced.
Popular bait choices have been catalpa worms, nightcrawlers, and hotdogs dipped in a variety of garlic and pungent scent concoctions. Some anglers are using leeches and gold fish too.
Not much going on in the white bass department as very few "jumps" have been scene. A few rockfish are showing up as anglers troll or cast bridge piers.
Sauger, which were once quite popular here during summer months, are somewhat scarce too. You can find a few small ones but rare are the ones making it past the 14-inch minimum length limit.
Mayfly hatches are still showing up too. Not many anglers have taken advantage of the flyrod opportunities, as was the case of yesteryear. Bluegill and bass can be taken beneath these summer buffets.
Bass action has been fair with a few anglers finding fish in shallow water habitat. The higher lake levels have continued to provide a comfort zone to bass along the shoreline weedbeds and main river island willows and buck brush.
Logs and treelaps have held fish all summer as minnows have stayed in the visible cover and attracted the bass. However, action in the shallow areas will likely diminish next week as water recedes.
Not much to report from night fishermen lately, as the white bass haven't shown up around the lights. And, not many crappie anglers are braving the night heat either.
For The Lake Barkley Report
Click Here
Also check out our past:
Kentucky Lake Fishing Reports
Steve McCadams
Steve McCadams is one of the nation's best known Crappie Fishermen and a full time resident of Paris, Tennessee. Steve is also a professional hunting and fishing guide here in the Paris Landing area.