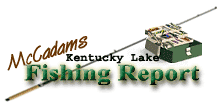 Brought to you by: Fishtale Lodge
July 15, 2010

TVA BEGINS SLOW DECENT OF LAKE LEVELS…BASS BITE HOLDS UP

Kentucky Lake is falling slowly as TVA's annual drawdown begins in early July each year. Lake levels will continue a slow decent until late fall when winter pool elevation is reached, which creates more storage capacity for fall and winter rains.

Bass fishermen have enjoyed some shallow water success the last few weeks as an abundance of fry has been present around buck bushes and weed beds. Schools of pin minnows are everywhere, indicating multiple hatches took place this spring during the high water saga.

While high water can be tough for anglers at times, it is usually good for recruitment of several species. It appears shad and various species---ranging from bass to bluegill---got off a good spawn. Perhaps crappie did too.

Despite some hot weather bass have been taken on buzzbaits, floating worms, assorted jerk baits, and Texas rigged worms and brush hogs around weeds and bushes. The pin minnows have really attracted the bass to shallow areas were structure provided both shade and refuge.

In the weeks ahead the falling lake levels will pull the minnows and bass out of shallow structure and to deeper water, although some treelaps will continue to hold fish on the deeper end.

At the same time some anglers were enjoying success with shallow water patterns others have continued to stalk the main lake ledges with Carolina rigged lizards, worms, and brush hop style baits. Texas rigged worms such as the 10-inch Berkley Power Bait in blue fleck, red shad, and black/blue have been popular.

Watch for current to be present this next week as falling lake levels put a slow flow in the main river. That should work in favor of deep water anglers.

Crappie action has been fair with some fish coming from deep ledges in the 18 to 24 foot depth range. Fish were taking live minnows fished on bottom bumping rigs and some jigs tipped with minnows.

A few fish were lingering in deeper stake beds located near drop-offs in the 13 to 15 foot range.

Bluegill were also holding on main lake ledges where some current was present. Sometimes fishing that deep water and slow crawling redworms and meal works across the bottom can produce a lot of fish that often lay deep awaiting mayfly larva swept by underwater current.

A few bluegill and assorted sunfish were hanging around treelaps and overhanging willows on steeper banks this week. Scattered mayfly hatches occurred earlier in the week.

Catfish were showing interest along the main river channel in the 25 to 35 foot depth range.

Some pontoons were night fishing over main lake ledges and using lights to attract a few scattered crappie and white bass.

Surface temps were staying around the 85 to 88 degree range. Water color was clear in the main lake but some feeder creeks had stain in the upper ends of bays and pockets from thunderstorms earlier in the week.

Elevation around New Johnsonville was down a few inches from last week at this time. TVA projected a reading of 358.6 this weekend. Downstream at Kentucky Dam the reservoir was falling slowly as well but still showed a reading of 358.9 range.

Also check out our past:
Kentucky Lake Fishing Reports

Steve McCadams is one of the nation's best known Crappie Fishermen and a full time resident of Paris, Tennessee. Steve is also a professional hunting and fishing guide here in the Paris Landing area.