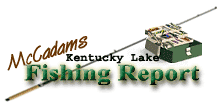 Brought to you by:





July 14, 2011

FISHING HOLDS UP DESPITE HOT WEATHER…LAKE LEVELS FALL SLOWLY


Kentucky Lake's fishing scene this week had a mixture of hot weather sandwiched in-between some decent days that saw light winds and cloud cover chase away humid conditions, bringing a temporary hiatus to the heat wave. Fishing conditions have not been all bad once the heat wave loosened its grip and allowed normal temps to return.
Anglers expect it to be warm in July but earlier this week the summer doldrums acted up and delivered a couple of days when the heat index eclipsed the three digit mark but the midweek's north wind helped bring things back to more comfortable outings.
Lake levels continue to fall slowly as TVA's winter drawdown is pretty much on schedule. Each year the agency begins a slow descent in early July that last through November when the reservoir reaches its low ebb of winter pool.
Projections for the weekend will see the reservoir resting around the 358.5 range at New Johnsonville. At Kentucky Dam readings will be in the 358.7 range. Anglers can expect a slow fall to continue in the days ahead which will provide current in the main river channel ledges.
Surface temps this week climbed into the 88 degree range at midweek, which is up some from last week's readings. Water color is in good shape across the lake with some dingy conditions scattered along river islands and pockets off the main channel.
Summer crappie continue to bite and I found some decent size fish lingering in 12 to 15 foot depths this week. Fish were showing a preference for a jig tipped with a live minnow but I also found consistent action on a 1/16-ounce jig tipped with Berkley Power Bait nibbles.
At times it seemed just a plain minnow rigged also produced bites when fished tight to structure as the crappie would not move much to strike, preferring instead to lay close to cover in their shadowed comfort zones around stakebeds, brush piles and stumps.
While a few fish have moved toward the deeper sides of main lake ledges in the 17 to 22 foot zones, not all fish have retreated to deeper depths just yet.
Trolling crankbaits is still giving up a few crappie with an occasional sauger showing up.
Bass were hitting good on days when cloud cover was present as some schooling fish were blitzing toward the shallow sides of drop-offs in pursuit of shad schools that were breaking the surface. While some bass were taken on the deeper sides in 13 to 17 foot depths there have been several fish occupying the shallow sides of ledges but close to deeper spots.
Tossing big shad colored crankbaits has worked well as have some big Texas rigged worms in the nine to ten-inch length in such colors as pumkin-pepper, plum, cotton candy, and green-gourd just to name a few.
Jig and craw combos have worked well too as have Carolina rigged lizards and crawfish imitations.
Ledge fishing should hold up well in the weeks ahead as the falling lake stages will continue to pull some fish away from shallow shoreline and weedbeds that had been quite appealing a week or two ago.
Night fishing has entered the equation for a few bass fishermen trying to beat the heat. Casting spinnerbaits and some Texas rigged worms on sloping gravel points and or rip-rap has produced lately.
Catfish were hitting pretty good along the main channel this week with a few boats drifting slowly with the current along the riverbank and beneath Paris Landing bridge. Most were bumping bottom in the 25 to 35 foot zones while using nightcrawlers, catalpa worms, chicken livers, and assorted commercial concoctions.
A few scattered mayfly hatches continue to show up and have attracted some bluegill to bridge piers, boat houses, and overhanging trees around levees and steeper banks where the flies fall into the lake and provide a buffet for just about all species. Despite some unwelcomed hot weather this week's summer fishing scene has produced some decent days and hefty catches that made it well worthwhile to hit the lake during early morning hours or late afternoon outings. Just keep that water jug and sunscreen handy and don't play games with thunderstorms.

Also check out our past:
Kentucky Lake Fishing Reports

Steve McCadams is one of the nation's best known Crappie Fishermen and a full time resident of Paris, Tennessee. Steve is also a professional hunting and fishing guide here in the Paris Landing area.