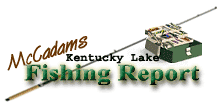 Brought to you by: Fishtale Lodge
Steve McCadams'
Kentucky Lake Fishing Report for:
July 13th, 2007
Fishermen got a little reprieve from the hot weather this week as cloudy days and lower humidity helped the overall fishing conditions somewhat. Several mornings had light winds too and that helped out as well.
Surface temperatures this week were in the 83 to 86 degree range. Water color remained clear in most of the reservoir.
Lake levels were hanging around the 358 mark this week at both Kentucky Dam and upstream at New Johnsonville Steam Plant.
Summer bass patterns are holding up for anglers working the deep ledges out on the main lake and inside the larger bays. Hefty stringers were taken earlier this week by fishermen tossing jig and pig combos, large Texas rigged worms, Carolina rigged lizards, and big deep diving crankbaits.
Popular color choices on worms have been green pumpkin pepper, June bug, red shad, and black and blue combinations.
Some current was present in the Tennessee River this week and that seemed to help on drop-offs along the main river. Several main lake ledges in Big Sandy were giving up decent bass too, despite no current being present there.
Grass beds are also giving up bass as anglers work them with topwater jerk baits, Texas rigged worms, and some rattle traps. Some fish have also been taken on weedless frogs worked slowly over thicker grass.
The visible grassbeds are holding a lot of pin minnows and the smaller bass are really holding up in these type areas but some anglers have found a large fish in there now and then.
Several decent limits have been taken the last week to ten days with some stringers averaging over three pounds. And, reports are coming in with a 5 to 6 pound largemouth showing up now and then so some good fish are out there and continue to bite in their typical summer hideouts.
Crappie were still hitting fair on main lake drop-offs this week. I found a pretty good grade of fish hanging around the 20 to 25 foot depth zone earlier in the week. At mid week fish seem more scattered in the deeper areas and I moved up to check some midrange stakebeds and found action improving in 12 to 14 foot zones.
The cloudy days likely helped the bite in the midrange depths as fish seemed interested in taking jigs tipped with minnows. Some fish took just a jig now and then but clearly showed a preference for the minnow, as did some feisty yellow bass and aggressive bluegill.
Scattered mayfly hatches were still underway this week but flies were here and there with no massive amount seen in the Paris Landing area. Look for hatches to continue these next few weeks.
Catfish action has been mediocre with only a scattered report of success now and then. Action can vary from day to day but it seems overall action has been off thus far this summer, due in part to lack of current in the main river.
A few anglers are trolling for sauger, crappie and white bass in the early mornings and late afternoons.
Only a few white bass have shown up in the creel of crappie fishermen and the trollers are only catching one now and then.
For The Lake Barkley Report
Click Here
Also check out our past:
Kentucky Lake Fishing Reports
Steve McCadams
Steve McCadams is one of the nation's best known Crappie Fishermen and a full time resident of Paris, Tennessee. Steve is also a professional hunting and fishing guide here in the Paris Landing area.