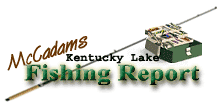 Brought to you by: Fishtale Lodge
Steve McCadams'
Kentucky Lake Fishing Report for:
July 14th, 2006
SUMMER BASS STILL SIZZLING ON KENTUCKY LAKE
According to some recent stringers of bass taken on Kentucky Lake, the summer season is still sizzling for some anglers.
Hefty limits have been caught by anglers in several local events that paint a picture of a pretty good fishery out there at a time when hot weather normally slows down the bite. While some anglers always seem to find the fish, the stringers taken by several teams further point toward good fishing.
Just last week in the Paul Steele Memorial Bass Tournament the top three teams averaged catching a 20-pound stringer! Thatís more like a weight of early spring events than early summer and a tip of the hat goes to all those teams who put together a successful summer pattern.
Even the short hours of the Wednesday afternoon tournaments by the Tower Sports Center and the Friday morning events hosted by Sportsmanís Digest Magazine reflect a pattern of consistency.
Meanwhile, most of the hefty stringers are coming from main lake ledges where anglers are tossing big deep diving crankbaits, Carolina rigged worms and lizards, and jig and pig combos. Some anglers are even slow rolling a one-ounce spinnerbait out there in the big water where that huge blade attracts attention as it flashes and throbs over stumps or structure.
Yet Kentucky Lake always has a variety of patterns for bass anglers. Some fish are always roaming the shallows, especially when pin minnows and mayflies team up to offer a buffet of forage.
Casting spinnerbaits, Texas rigged worms, and floating fluke style baits has fooled some largemouth into striking lately. Finding the baitfish around shallow structure seems to pay dividends this time of year too.
Crappie have scattered somewhat compared to the previous weeks but a lot of small fish maintain an appetite in midrange structure and along the deep sides of main lake ledges.
Depths of 16 to 22 feet are giving up a lot of fish but expect to encounter a lot of small fish and an army of those feisty and always hungry yellow bass. Other areas such as 13 to 15 foot zones where brushpiles and stakebeds are located have also produced crappie lately.
Live minnows and jigs are working but the fish sure seem to favor that live minnow this time of year. The larger crappie are scattered and a bit harder to come by lately.
Some anglers continue to troll cankbaits along ledges for a combination creel of white bass, crappie, bass, and sauger.
Mayfly hatches are still underway and every week they appear at unknown intervals across the lake. Lots of panfish are waiting for them along those steep banks where overhanging willows offer a canopy of shade and food.
Catfish are biting along the main river and current has entered the picture this week for anglers working the riverbank. Depths of 25 to 40 feet have produced. Those deep holes and irregular bends in the submerged riverbank are the summer spots for catfish.
Nightcrawlers, chicken liver, catalpa worms, and leeches have been the baits of choice.
A few white bass are showing up in scattered jumps. Watch for surface activity to improve in the weeks ahead as the summer doldrums descend. Those hot and calm days are good for white bass in the jumps.
Some night fishing is underway but only moderate success has been reported by those fishing for white bass and crappie beneath the lights.
Lake levels are falling slowly as TVAís annual curve for winter drawdown began last week. The reservoir will continue to fall slowly in the weeks ahead.
Current lake levels are in the 358.3 range at Kentucky Dam and New Johnsonville, which is down a few inches from last week.
Surface temperatures continue to hang around the 83 to 86 degree range. Water color is relatively clear throughout most of the main lake with some stain in secondary bays and along river islands.
For The Lake Barkley Report
Click Here
Also check out our past:
Kentucky Lake Fishing Reports
Steve McCadams
Steve McCadams is one of the nation's best known Crappie Fishermen and a full time resident of Paris, Tennessee. Steve is also a professional hunting and fishing guide here in the Paris Landing area.