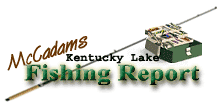 Brought to you by: Fishtale Lodge
Steve McCadams'
Kentucky Lake Fishing Report for:
July 1st, 2005
Anglers have battled hot weather and fish at the same time this past week. Action continues to hold up for summer crappie, bass and catfish while those mayfly hatches are still underway.
Most fishermen are hitting the water early and slacking off at midday while a few others are waiting until the late afternoon hours to wet a hook. There have been a few mornings when some cloud cover and a light breeze made it feel comfortable out there.
Yet some days have little or no wind, making it quite a challenge for most anglers who feel they've endured some August weather during the month of June. Those summer doldrums sometimes come early in the season, or so it seems.
Water levels continue to stay around the summer pool mark, varying only a few inches during the week. Both Kentucky Dam and New Johnsonville showed a summer pool elevation of 359 most of the week with no change in the TVA forecast.
Surface temperatures have risen since last week. My LCR showed most of the Paris Landing area to be in the 83 to 87 degree range this week. Watercolor is quite clear throughout most of the reservoir.
Crappie action continues to hold up well. A lot of fish continue to move toward main lake ledges where live minnows fished on bottom bumping rigs and worked slowly around submerged structure are paying dividends.
I found good numbers of fish lingering in the 15 to 17 foot range most of the week. A few fish seemed to move off to the deeper sides of sandbars during the middle of the day when direct sunlight pushed them down.
Some smaller crappie were residing in the 20 to 23 foot range but the better grade of fish seemed to be up on the ridge or near the drop-off.
A few good size black crappie are showing up too, along with a slab now and then. It takes a lot of minnows to get the job down, however, as the army of small white bass and yellow bass are out there with a vengeance. They really have an appetite and will clean your hook in the blink of an eye.
A few white bass are running shad and some scattered jumps were showing up this week.
Bass action is pretty good too as several fish are relating to the summer hideouts on make lake ledges. Some mornings the fish are up on the topsides of ledges in 7 to 12 foot zones but seem to be backing off to deeper water on up in the day. A few bass were hanging out around 15 to 20 foot depths.
There has been some current this week, which has helped the ledge fishermen working sandbars near the main river channel.
Baits of choice continue to be Texas rigged worms, Carolina rigged lizards, jig and pig combos, and some of the large, deep diving crankbaits.
A few decent smallmouth continue to make their presence known to anglers working the main lake sandbars along the Tennessee River. And, night fishing patterns are also working for a few anglers who are already tossing spinnerbaits and jigs along rock banks and sloping points extending out into the river channel.
Catfish are sharing some of the main lake ledges with crappie and bass where 18 to 23 foot depths are holding some dandies. I've tied into several this week while dangling minnow rigs around deep stumps in search of crappie.
Several catfish are staying along the Tennessee River channel break in 25 to 40 foot depths and the current has help out tremendously. Some mornings have started out slow but the current seems to kick in around midday and stimulates activity from both baitfish and catfish.
Baits of choice have been chicken liver, nightcrawlers, leeches, catalpa worms, and cut shad.
Mayfly hatches are still underway along the main river and around the mouth of Big Sandy. Watch for some big hatches in the next two weeks, as July always seems to bring on the natural buffet.
A few sauger showed up this week with several meeting or exceeding the 14-inch length limit.
Both the weather and fishing have been pretty hot for several species so fill up the water jug, toss some ice in the cooler and strike a trot.
For The Lake Barkley Report
Click Here
Also check out our past:
Kentucky Lake Fishing Reports
Steve McCadams
Steve McCadams is one of the nation's best known Crappie Fishermen and a full time resident of Paris, Tennessee. Steve is also a professional hunting and fishing guide here in the Paris Landing area.