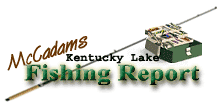 Brought to you by: Fishtale Lodge
Steve McCadams'
Kentucky Lake Fishing Report for:
July 4th, 2003
Mayfly hatches are underway along the banks and islands of Kentucky Lake. That's always popular during the summer fishing scene.
Added to this week's fishing report is the continued success of crappie and bass anglers. And, catfish action is worth the trip too.
Water levels have risen slightly since last week along Kentucky Lake. In fact, the reservoir is several inches above normal summer pool, which means ample water around shoreline and island buck bushes, weed beds, and willows.
Surface temperatures are in the 80 to 84 degree range with the cloudy days working in favor of both the fish and the fishermen.
Observed lake elevation at Kentucky Dam is 359.8. TVA indicates a similar reading this weekend at New Johnsonville too. The readings are somewhat unusual as TVA normally begins its annual summer drawdown on or around July 1.
Look for falling lake levels early next week unless heavy rains occur from the tropical depressions that may send rain to the TVA valley.
Watercolor is sporting a good stain for fishing along much of the Tennessee River. The islands and bays have good dingy water in many areas and such conditions have been good for bass fishing working the shallow stickups and shoreline habitat.
Big Sandy is still clear down toward the mouth but has some stain up in the Country Junction and West Sandy area near Pleasant View.
There are lots of pin minnows relating to the buck bushes and weedbeds in most bays on the Tennessee River. And, the islands are holding minnows too in some places.
Look for current to be present this weekend which should stimulate a lot of activity for bass anglers tossing worms, lizards, spinnerbaits, and assorted topwater lures around visible cover.
While bass fishing is good in shallow areas, most anglers are having trouble finding the bigger fish.
Deep ledges are producing a few larger bass but despite anglers working big crankbaits, Carolina rigged worms and lizards, worms, and jigs, the lunker bass are still hiding out.
Some smallmouth were hitting on main lake ledges but quite scattered. Meanwhile, a lot of bass are hanging out under the willows where both minnows and mayflies are present.
Bluegill enthusiast can have a lot of fast fun with light tackle or a flyrod this week. The mayfly hatches are offering some good fishing, especially with the higher lake levels inundating the shallow banks.
Catfish action is good along the main river and many anglers are finding them on the topside of the riverbank. That is, depths of 20 to 25 feet are producing.
Nightcrawlers are still topping the list for effective baits. Chicken livers, shrimp, leeches and cut-shad are working too.
Crappie action is good in deep stakebeds and along main lake drop-offs. Many anglers overlook summer as this week has seen some dandy stringers taken in 13 to 15 foot beds. And, the ledges in 15 to 20 foot depths are yielding some good fish as well.
Jigs tipped with minnows and live minnows are working well. Guide Don Winstead of Dresden and Jim Perry of Buchanan had some coolers full of crappie this week at the mouth of the Big Sandy River.
Sauger action is still somewhat below average as not many legal size fish are showing up in the creel of anglers. There are a few folks trolling and catching an occasional keeper but even the white bass have been scarce for trollers too.
Right now you can rise and shine early and find some dandy bass action or test the mayfly hatches for bluegill. The crappie are in the mood and so are the catfish. The approaching holiday fishing scene should be a good one.
For The Lake Barkley Report
Click Here
For Other Kentucky Lake Fishing Reports
Click Here
Steve McCadams
is a professional hunting and fishing guide here in the Paris Landing area and host of The Outdoor Channel's television series IN-PURSUIT.