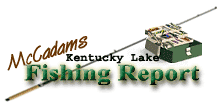 Brought to you by: Fishtale Lodge
Steve McCadams'
Kentucky Lake Fishing Report for:
June 9th, 2007
Fishing is holding up well for crappie, bass, and catfish anglers here on Kentucky Lake.
Overall, weather has been good for fishing with a day or two of windy conditions that challenged open water anglers. Summer patterns are pretty much on schedule as to behavior and patterns for crappie and bass while catfish have been lingering around some rocky areas lately such as catfish island in Big Sandy.
Lake levels continue to reside below normal summer pool elevation. This week observed elevation at Kentucky Dam has been around the 358.3 mark and holding stable. Upstream at New Johnsonville the reservoir was resting in the 358.2 range and expected to remain there going into the weekend according to TVA projections.
Clear water conditions remain throughout most of the reservoir.
Surface temperatures have been in the 77 to 79 degree range this week. With warmer weather in the forecast anglers can expect temps to rise a couple of degrees this weekend.
Crappie are hitting good and some dandy stringers continue to show up. A lot of fish are coming from manmade fish attractors in the 12 to 14 foot zone while some of the main lake ledges filled with deep stumps and brush are also accounting for decent numbers.
The drop-offs are holding crappie on the deep sides of ledges in 18 to 24 foot depths. Anglers using bottom bumping rigs loaded with live minnows and jigs are catching fish from the deep zones.
The midrange areas have been holding fish for several weeks now and anglers using vertical presentations of jigs and jigs tipped with minnows have enjoyed consistent success.
Popular color choices of jigs have been lime leadheads with dull colored tube skirts such as silver sparkle, dull shades of green, and brown. Some red and chartreuse and other light green variations have also worked and tipping with minnows seems to entice bites too.
Some other techniques producing have been trolling crankbaits out over main lake flats. This approach covers a lot of water and often catches suspended crappie.
A few boats are still pulling long lines where jigs with tube skirts and twister tails are working as have been Road Runners and other leadheads with small spinners attached.
Bass fishermen continue to key in on main lake ledges with a combination of big crankbaits, Texas and Carolina rigged worms, and jig and pig combos.
A few fish have been taken off blow downs and other structure on the edges of river islands and bridge piers where pin minnows are starting to show up in hefty schools. Outside weed beds and exposed crappie beds are also holding some bass as anglers work spinnerbaits, shallow running crankbaits, and worms around visible grass and wood.
Most of the heavy stringers of fish are coming from deeper sandbars. The popular summer hangouts have produced some smallmouth too with most coming from ledges on the east side of the lake.
A lot of aquatic vegetation is starting to show up in the form of milfoil, pondweed, and slimy moss or lily pads.
Catfish seemed to show a surge in action last week as the rocky banks were giving up some decent channel catfish. Jug fishing has also been paying off.
Bluegill seemed to have backed off considerably as to their spawning areas. A lot of small fish are still scattered around shallow weeds and docks but several of the larger male bluegill have pulled back to deeper water and scattered.
Itís quite likely a mayfly hatch will occur within the next week to ten days. That could see the return of some bluegill to shallow areas and overhanging trees or bushes on islands.
The dog days of summer are not here yet but fishing has been pretty doggone good!
For The Lake Barkley Report
Click Here
Also check out our past:
Kentucky Lake Fishing Reports
Steve McCadams
Steve McCadams is one of the nation's best known Crappie Fishermen and a full time resident of Paris, Tennessee. Steve is also a professional hunting and fishing guide here in the Paris Landing area.