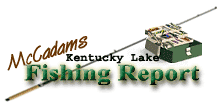 Brought to you by: Fishtale Lodge
Steve McCadams'
Kentucky Lake Fishing Report for:
June 9th, 2006
MAYFLY HATCHES ENTER FISHING PICTURE…CRAPPIE/BASS ACTION GOOD
Kentucky Lake continues to give up good catches of crappie and bass this week. Mayfly hatches have entered the picture too, offering bluegill anglers a surge in action as well.
Good weather has worked in favor of anglers who had a cool start this week with light winds that warmed by midweek. Overall conditions have been good and it appears summer weather is now here to stay.
Surface temperatures were in the 78 to 82 degree earlier this week but climbed to 84 degrees at midweek. Water color remains clear throughout the reservoir.
Lake stages were up a few inches last weekend but were falling slowly at midweek and expected to be back in the 359 range for both Kentucky Dam and New Johnsonville area going into the weekend.
The first mayfly hatch of the summer season was underway on Tuesday in the Paris Landing area and by Wednesday morning bluegill were feasting on the flies beneath overhanging willows and around weedbeds. You can have a lot of fun right now with light tackle or flyrods. Toss a cricket or worm around the shoreline mayfly zones and it's instant action.
Bass anglers are finding some fish using the mayfly areas too as those shallow weedbeds, blowdowns, willows, and weedbeds are holding bass. A lot of pin minnows are present and coupled with the recent mayfly hatch offer a buffet for bass.
Some of the larger stringers are coming from anglers working big deep diving crankbaits, jigs, Texas and Carolina worm rigs on the main lake ledges. Look for the open water drop-offs to hold up well in the weeks ahead but don't overlook the shallow zones where spinnerbaits and topwater will produce as well.
Crappie action has been good and consistent for several weeks now. Anglers are chalking up good numbers of fish from both main lake ledges and midrange structure. The deep side of the ledges where stumps or brush can be found will yield some action. Decent fish are coming from 18 to 20 foot zones there.
Those midrange stakebeds and brush piles are giving up good fish too. Depths of 12 to 15 feet have been popular venues and have been producing for several weeks. Post-spawn crappie phases have been good to Kentucky Lake anglers this year and it appears June is going to be a good month.
Often overlooked, June is a good month for crappie fishing here and there's every reason to believe the weeks ahead are going to offer fine crappie action.
Productive baits continue to be jigs tipped with minnows, along with small jigs fished by themselves. Deep water anglers are working live minnows around stumps and brush. Popular colors have been black leadheads on dull colored jig skirts as that clear water is a factor in color choice.
A few anglers are trolling crankbaits along main lake ledges and catching crappie, along with the variety package of catfish, sauger, white bass, and largemouth.
Catfish continue to bite and are showing signs of moving toward summer patterns near the main river channel. Watch for improved action on the river bank as current and hot weather enter the picture. Nightcrawlers, chicken liver, leeches, and live minnows have been baits of choice.
Fishing is good so hop to it!
For The Lake Barkley Report
Click Here
Also check out our past:
Kentucky Lake Fishing Reports
Steve McCadams
Steve McCadams is one of the nation's best known Crappie Fishermen and a full time resident of Paris, Tennessee. Steve is also a professional hunting and fishing guide here in the Paris Landing area.