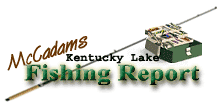 Brought to you by: Fishtale Lodge
Steve McCadams'
Kentucky Lake Fishing Report for:
June 4th, 2004
Crappie fishing continues to hold up well for Kentucky Lake anglers this week as rising lake levels return in the aftermath of heavy rains.
Last weekend's thunderstorms across the region really dropped some rain, especially to the north where the Ohio River has been rising dramatically all week. Flooding there may cause TVA to hold off heavy discharges at Kentucky Dam, which will see rising lake levels this weekend and into next week in this area.
Observed lake elevation at Kentucky Dam will be 359.5 going into the weekend. Upstream at New Johnsonville TVA predicts readings to be in the 359.3 range. Both locations are above the normal summer pool elevation. Look for the reservoir to continue to rise in the days ahead. Just how high it will go remains to be seen.
Watercolor is stained throughout the main Tennessee River area. Most bays and pockets near the main channel are dingy too after last weekends rain and high winds.
Much of Big Sandy and West Sandy is relative clear compared to the Tennessee River area.
Surface temperatures are in the 76-80 degree range.
Presently, crappie are hitting good in the 11 to 14 foot zones with some fish being caught even deeper. The majority of the fish continue to hang out in that midrange depth zone where stumps, brush, and manmade fish attractors are offering them a good comfort zone.
Some anglers were catching fish while making vertical presentations of jigs tipped with minnows down into the structure. Others were still picking up a few slow trolling jigs and minnows on multi-pole setups.
A few fish are meandering their way back to the main lake ledges, however. Some fish were taken in the 15 to 18 foot depths this week out in the middle of Big Sandy and around the Paris Landing area.
Anglers working the deep ledges were using bottom-bumping rigs armed with both jigs and minnows.
Overall, crappie fishing has been good but many anglers are overlooking the action now underway.
Bass action is holding up well with several good fish showing up on main lake ledges in the Paris Landing area.
With the rising lake levels anglers may see some improvement in the shallow shoreline and river island habitat this week. The buck bushes and grassbeds are full of small "fry" minnows, offering an abundance of forage to all sizes of fish.
A lot of larger shad are chasing the pin minnows and some hefty bass are on their trail. The higher lake levels will offer more water around visible structure that would normally be too shallow at this time of year. Add the rising lake levels to stained water and the fish have a comfort zone where ample shade, food, and deep water are present.
Look for such techniques as pitching and flipping jigs and worms to pay off dividends this week. Also, working tube style baits and floating worms and fluke-style lures will yield some strikes as well.
Tossing spinnerbaits and buzzbaits will produce around submerged weedbeds and willow trees. And, the cloudy days will see some nice opportunities for topwater jerk baits.
Some fish will remain on secondary ledges where Carolina and Texas rigged worms and lizards or softcraws will produce. The prime time for big, deep diving crankbaits is here too.
Kentucky Lake is known for its variety and this is the time of year when several different patterns produce bass.
Bluegill and shellcracker seemed to have backed off the beds this week, although a few fish are still hitting. I hit several bluegill beds earlier this week but the large numbers of fish that were present two weeks ago have scattered, a typical scenario once the fish reach the post-spawn phase.
Still, you can have a lot of fun with light tackle and some crickets or red worms as a few bull bream are still present with an appetite. Watch for some signs of mayfly activity in the weeks ahead.
Catfish appear to be heading back to midrange depths as bank fishermen are slowing down in their take of ol' whiskers. The fish appear to be leaving rock bluffs and meandering back to main lake areas.
Many anglers have been catching fish while jugging or using trotlines.
Not many legal size sauger showing up but a few anglers are trolling sandbars in hopes of finding them. Most trollers are catching a Duke's mixture of white bass, rockfish, catfish, and crappie. And, a few big drum seem to always turn up, with a decent sauger now and then.
For The Lake Barkley Report
Click Here
Also check out our past:
Kentucky Lake Fishing Reports
Steve McCadams
Steve McCadams is one of the nation's best known Crappie Fishermen and a full time resident of Paris, Tennessee. Steve is also a professional hunting and fishing guide here in the Paris Landing area.