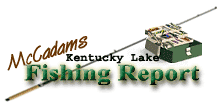 Brought to you by: Fishtale Lodge
June 3, 2010

EARLY SUMMER PATTERNS UNDERWAY AS HOT WEATHER ARRIVES

Seems summer is trying to slip in the door a bit early. Warm weather has stimulated summer patterns for some anglers as heat has been a factor on Kentucky Lake this week.

Surface temps climbed into the 81 to 84 degree range this week courtesy of some hot and humid weather that made it feel more like late summer than late spring.

Lake levels are expected to sleep around the summer pool elevation of 359 this weekend across most of the reservoir. Readings are projected to be 359.1 at Kentucky Dam and 359 at New Johnsonville. The elevation is down a few inches from earlier in the week.

Water color is in good shape across the reservoir. A slight stain is present at the mouth of Big Sandy and in some pockets along the Tennessee River.

Bass action has been fair this week with a lot of small fish being caught in a variety of depths. Seems the larger fish have been playing hide and seek a few days but there are still a lot of small fish keeping the interest level high among the ranks of bass fishermen.

The warmer weather should see ledge fishing improve as larger fish begin to relate more toward deep water hangouts. However, a lot of anglers have been stalking the main lake drop-offs this week but reported tough going some days as to heavy stringers.

The big fish bite can vary from day to day as both wind and current are factors. Popular techniques such as casting big crankbaits, hopping jigs, slow retrieved Carolina rigs, and Texas rigged worms have accounted for a lot of fish in the deeper areas lately.

On days when stagnant winds were present and very little current was out there on the Tennessee River big fish have been stubborn to bite. Still, some anglers have mastered the warm weather pattern and found a few good fish taking 10-inch worms fished Texas style.

Itís likely the recent rash of high, muddy water will have an adverse affect on aquatic weeds such as milfoil. Odds are some of the pros will find buried treasure somewhere during the upcoming tournaments.

Most anglers are keeping several lures and techniques in their arsenal and using them during the day to stimulate bites. A few big swim baits and spoons have been used at times but wise is the angler who is willing to try different things in the deep water venues.

Popular colors of worms have been red shad, black and blue, purple and pearl, and some pumpkin pepper just to name a few. Crankbait colors have ranged from chrome and blue to Tennessee shad, chartreuse/black, pearl with glitter, and red eye shad.

Shallow areas are still holding on to some fish as a lot of fry are present in the weeds and bushes where a spinnerbait, topwater jerk bait, and Texas rigged worm are working well.

Some islands are beginning to hold fish too, especially when current is present. There are a lot of blowdowns now that high water has eroded shorelines so watch for those treelaps to hold fish throughout the summer.

Crappie have been fair this week in midrange depths but anglers have had to make a lot of stops as the fish are not congregated. It has been a few-here, few-there scenario. Productive depths have been 12 to 15 feet. Some fish have been taken on deeper drop-offs but the main lake ledges have been stubborn to give up numbers.

Stakebeds and deep brushpiles are giving up a few fish as anglers tightline jigs and live minnows around the cover.

Some anglers are tolling crankbaits and finding a few scattered crappie in the 15 foot zones.

Bluegill are still hitting but not bedding like they were a week to ten days ago. Still, there are enough left around shallow shorelines to offer good fishing. Shellcracker appear to be off the beds and now scattered.

There was a small mayfly hatch this week in the Paris Landing area. Watch for more to come in that department.

Catfish have been hitting in some deeper areas this week as they pull back from the rock bluffs and hit their post spawn phase. The fish should begin to occupy deeper ledges as warm weather pulls them away from the rocks and spawning territory that was so attractive a week or two ago.

Also check out our past:
Kentucky Lake Fishing Reports

Steve McCadams is one of the nation's best known Crappie Fishermen and a full time resident of Paris, Tennessee. Steve is also a professional hunting and fishing guide here in the Paris Landing area.