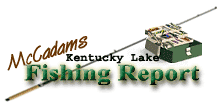 Brought to you by: Fishtale Lodge
Steve McCadams'
Kentucky Lake Fishing Report for:
June 30th, 2006
This weekís fishing report shows Kentucky Lakeís elevation staying around the summer pool level of 359.1 at New Johnsonville and slightly higher at Kentucky Dam where the reading was 359.2 at midweek.
Lake levels have been relatively stable this week and should remain that way going into the weekend, according to TVA forecasts.
Surface temperatures are reflecting the arrival of summer with readings in the 81 to 85 degree range this week across most of the reservoir. Most mornings start out with readings in the low 80ís and rise a few degrees by midday.
Watercolor remains clear throughout most of the reservoir. A few shallow bays have some stain after brief thunderstorm runoff but not enough to influence the main lake areas.
Bass anglers are still finding a lot of fish chasing pin minnows around shallow weed beds, willow trees, blown down trees on river islands, and boat houses and piers. The schools of minnows attract bass to shallow areas even in hot weather.
Spinnerbaits, buzzbaits, Texas rigged worms, and floating fluke style baits are producing well in shallow areas for bass fishermen.
Main lake ledges are still holding the larger fish and anglers continue to work them with big deep diving crankbaits, Carolina rigged lizards, Texas rigged worms, jig and pork combos, and even some one-ounce spinnerbaits rolled slowly along the sandbars.
A few anglers are tossing 9 to 10-inch long worms and working them slowly on Texas rigs and Carolina rigs.
Crappie appear to be moving more toward deeper venues as surface temperatures warm. Thereís still a lot of smaller fish lingering in that 11 to 14 foot zone but a lot of those stakebeds and brushpiles that were giving up good size crappie earlier in the month are holding fewer of the big fish.
Main lake ledges are producing some crappie for anglers working minnows and jigs along the deeper sides of the drop-offs. Popular depth ranges have been 16 to 25 feet where structure is located.
Summer crappie will likely hang out there on the main lake ledges until early September when they will return to midrange depths during their fall transition patterns.
If you know how to find those deep ledges you can have some good summer crappie fishing however. And, a few anglers are having success while night fishing for crappie under floating lights.
Mayfly hatches have returned this week too and watch for a big hatch to occur this next week. Seems there is always a huge mayfly hatch around the Fourth of July along the shores of Kentucky Lake.
Catfishermen continue to score along the Tennessee River but there hasnít been too much current this week. As the hot days arrive watch for current to pick up around mid-morning as power demands have TVA pulling water through the system.
Several catfish are hanging out around those midrange depths as my clients have tied into three or four each day while crappie fishing. This week we landed several as that jig and minnow seemed to appeal. Largest one tipped the scaled at seven pounds or so but on light tackle thatís a lot of fun.
Catalpa worms are out now so thatís always a good natural bait for catfishermen. And, nightcrawlers, chicken liver, big minnows, and some shad guts are also working well.
A few white bass and sauger are showing up as anglers troll crankbaits along main river ledges. The crankbaits catch just about everything from crappie to big drum too!
With summer fishing patterns underway, you can beat the heat with those early morning and late afternoon trips. Catch a day with some cloud cover and a light breeze and itís not all bad out there. Sure makes that iced tea taste good if you have some nearby!
For The Lake Barkley Report
Click Here
Also check out our past:
Kentucky Lake Fishing Reports
Steve McCadams
Steve McCadams is one of the nation's best known Crappie Fishermen and a full time resident of Paris, Tennessee. Steve is also a professional hunting and fishing guide here in the Paris Landing area.