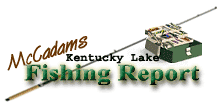 Brought to you by: Fishtale Lodge
Steve McCadams'
Kentucky Lake Fishing Report for:
June 29th, 2007
SUMMER FISHING HEATS UP…CRAPPIE AND BASS ON MAIN LAKE LEDGES
Summer fishing patterns have held up to tradition this week as crappie fall back to deep drop-offs and bass back off the banks.
This week's fishing report indicates mayfly hatches are still underway too; a sure sign summer is here for anglers.
Warm weather and afternoon thunderstorms have been part of the fishing scene lately, replacing a long dry spell that even had anglers wishing for some rain.
I almost forgot where I stored my raincoat but I had to dig it out several times this week in attempts to dodge rain in the Paris Landing area. Dark clouds have been passing through at times but it's a welcomed change.
Surface temperatures this week have been in the 82 to 85 degree range. Water color remains clear throughout most of the reservoir.
Water levels are up a few inches from last week at this time. Observed elevation at both Kentucky Dam and New Johnsonville is in the 358.4 range.
Crappie have moved toward deeper venues this week as warm weather appears to be pushing the fish to main lake ledges. For the last several weeks good numbers of fish were residing in midrange stakebeds and brushpiles but this week fish were scattered there.
I found action much improved after trading in my jig pole and light line for the double hook bottom bumping rig. The clear water and bright days seem to send the fish toward structure in the 20 to 25 foot depths. A few fish were taken around 28 feet at midday.
Most of the fish were relating to structure along the deep side of the drop-off where an occasional catfish, white bass, sauger, largemouth and the pesky yellow bass were also residing.
It's likely the deep water pattern will continue to produce for crappie anglers in the weeks ahead.
Although a few fish remain in the midrange depth zone of 12 to 15 feet increased numbers of fish were found in much deeper water this week.
Working the deep structure with live shiner minnows and jigs tipped with minnows has paid off the last few days.
Bass fishermen continue to stay on the summer pattern of main lake drop-offs while fishing crankbaits, large Texas rigged worms, Carolina rigged lizards, and hopping a jig and pig combo.
Most of the fish are relating to brush or stumps near ledges, although some anglers are finding them off the deep sides of ledges in 18 to 20 feet at times.
A lot of small bait fish are present around grassbeds near main river islands and flats where various aquatic weeds are forming carpets of cover. Some fish are lying near the edges of the grass fragments or in the thick of it where shade is available.
Some current was present this week on the main river and that usually works in favor of ledge fishing for bass anglers. However, the ledge fishing seems to require a lot of casting as the fish out there are somewhat scattered or inactive at times.
A few anglers are tossing 9 to 10-inch worms on the ledges and finding some fish while others are cranking and winding deep diving crankbaits in the chartreuse and black, pearl, blue and chrome, and Tennessee shad, just to name a few.
Some yellow bass and small schools of white bass have been chasing minnows around the grassy areas and traveling with them have been some largemouth and smallmouth. Tossing some topwater jerk baits such as Storm's Thunderstick, Rebel's Pop-R and Heddon's Zara Spook have yielded some keeper size bass around the small stripe jumps.
Some scattered mayfly hatches were underway this week at various locations along the main river. Watch for more hatches this week too.
A few bass and bluegill can be taken beneath the hatches. Tossing beetle spin style lures on light tackle will produce ample strikes from a variety of panfish while plastic worms and spinnerbaits will produce some bass.
Working crickets around the hatches will certainly put you in touch with a variety of sunfish.
Some catfish action is underway along the main river. Current was present a few mornings and that stimulated action as anglers work the edge of the main channel with chicken livers and night crawlers or big minnows.
Summer fishing has been pretty good, especially if you hit the water for those early mornings and late afternoon opportunities and save the midday periods for battle with the iced tea.
For The Lake Barkley Report
Click Here
Also check out our past:
Kentucky Lake Fishing Reports
Steve McCadams
Steve McCadams is one of the nation's best known Crappie Fishermen and a full time resident of Paris, Tennessee. Steve is also a professional hunting and fishing guide here in the Paris Landing area.