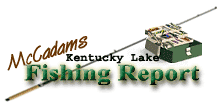 Brought to you by: Fishtale Lodge
Steve McCadams'
Kentucky Lake Fishing Report for:
June 27th, 2003
MAYFLY HATCHES SIGNAL SUMMER FUN
(TIME TO TEST THE FLY ROD)
This weekís fishing report has definitely changed to the summer pattern for most species as warm weather arrived just as the seasons officially changed.
Surface temperatures this week on Kentucky Lake were in the 83 to 85-degree range, which is up about five degrees from last week.
Observed lake elevation at New Johnsonville was 359.2. Downstream at Kentucky Dam the elevation was 359.4. The reservoir is falling slowly and will likely be back down to the summer pool level of 359 by this weekend.
Watercolor is still quite clear in the main lake portion of Big Sandy while some dingy water is present all along the Tennessee River islands and main lake areas.
There have been some big mayfly hatches this week and anglers can expect more in the week ahead. The mayflies have been abundant all over the Paris Landing area this week as thousands of carcasses can be seen floating where the larva stage has emerged from the lake bottom and hatched into the adult fly.
A lot of fish come shallow to feed on the abundant food source as the overhanging willows provide a perfect canopy of shade for the fish to hide and wait. Then as the birds feed on the flies they also knock them off to the lake surface where hungry fish dine in style on this natural buffet.
Itís a good time to use a fly rod or light spinning tackle to catch a variety of sunfish. Tossing a Rooster Tail or Beetle Spin will get you a lot of strikes. Also worth tossing is a bobber and cricket rig.
Bass action is still holding up well this week and a few anglers are working the shallow weed beds and buck bushes. The bass feed on the mayflies too so you can likely find action near the mayfly hatches.
A lot of pin minnows are still present around blowdowns, weeds, and docks. Tossing a spinnerbait or worm around the visible structure when the minnows are present is a recipe for success.
Meanwhile, the warmer surface temperatures will likely send some of the larger bass toward main lake ledges. Working Carolina rigged lizards in the June Bug, Tequila Sunrise, Red Shad, and black with red glitter has been effective.
Texas rigged worms are working too as are deep diving crankbaits in the Tennessee Shad, Ghost, chrome and black, along with chartreuse and blue. Popular deep divers are the Poeís 400-series, Normanís DD22, and Mannís Deep Pig.
Popping a black and blue jig along the edges of the drops has also produced some decent stringers.
Thereís still some surface action in the weedbeds and shallow bushes if you rise early or fish late in the afternoon. A few rainy and cloudy days have helped the shallow water venues so keep the buzzbait and other jerkbaits tied on.
Crappie are hitting good as anglers catch a lot of small fish in-between the larger ones this week. Itís likely many of the crappie are taking advantage of the recent mayfly hatches and gorging himself or herself on the mayfly larva.
A few fish are still lingering around deep stakebeds and brushpiles in 12 to 15 foot depths. The main lake ledges are producing too as anglers tightline minnows and jigs tipped with minnows in the 17 to 23 foot zones.
More sauger are hitting lately, as crappie and bass anglers seem to be catching several of them each day. My clients landed several sauger this week from the tops of ledges in the main lake where depths were 13 to 15 foot deep. However, although more sauger are showing up there are only a few which reach the minimum length limit of 14-inches.
Summer is here and so are the summer fishing patterns.
For The Lake Barkley Report
Click Here
For Other Kentucky Lake Fishing Reports
Click Here
Steve McCadams
is a professional hunting and fishing guide here in the Paris Landing area and host of The Outdoor Channel's television series IN-PURSUIT.