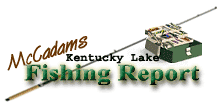 Brought to you by: Fishtale Lodge
Steve McCadams'
Kentucky Lake Fishing Report for:
June 25th, 2004
CRAPPIE ACTION GOOD...MAYFLY HATCHES UNDERWAY...KENTUCKY LAKE LEVELS RESTING AT NORMAL SUMMER POOL
Summer patterns are in full swing for Kentucky Lake anglers. This week, crappie have been hitting good and continue to be overlooked by most fishermen this time of year.
Mayfly hatches are underway each week with another big one in the Paris Landing on Wednesday.
Lake levels have been relatively stable this week. Observed elevation at Kentucky Dam was 359, which is normal summer pool. Upstream, New Johnsonville was reporting the same level. The reservoir may fluctuate a few inches this week but changes will be minor according to TVA forecasts.
Surface temperatures were in the 81 to 84 degree range. Watercolor is clear throughout the entire Big Sandy embayment but there is some stain in the Tennessee River around islands and mainstream flats and points.
Crappie action has been good for several weeks and the fish are lingering in the 13 to 15 foot zones out on the main lake flats where stumps and manmade fish attractors can be found.
I had some good days this week while vertical fishing 1/16-ounce jigs tipped with minnows. A few fish preferred chartreuse colored leadheads but unpainted leadheads were producing as well.
There are some good size fish hitting on those midrange depths. And, you'll find a lot of small crappie and yellow bass mixed in as well so culling and measuring fish will be part of the outing.
Some crappie have also moved back to main lake ledges and holding around the 15 to 20 foot zones where submerged structure is located. Bottom bumping rigs armed with minnows have produced some decent stringers there too.
Overall, the crappie fishing has held up well but many anglers are missing out on some good summer fishing.
Catfish have been hitting in the 15 to 25 foot zones out on the main Tennessee River. And, crappie anglers are tangling with a few good ones too each day as some fish remain in the midrange depths.
There is a little current in the main river, especially in the afternoons. That seems to stimulate the catfish bite. Nightcrawlers, leeches, and chicken livers have been producing well.
A hefty flathead catfish tipping the scales at 40-pounds was taken last week up Big Sandy near Sulphur Well Island by Fred Vinn of Springville. He landed the big cat while crappie fishing on a rod that had 8-pound test line!
Jugging and trotlines have been paying off for catfishermen too.
Mayfly hatches this week have attracted some bluegill and bass activity around the shoreline weedbeds and willows. The flies always seem to appeal to a variety of species.
Some bass are staying shallow and running minnows around visible habitat. Boat docks, weedbeds, and buck bushes are still holding some fish.
Popular lures have been spinnerbaits, floating worms and flukes, jerkbaits, and some buzzbaits worked over grass.
A nice bronzeback weighing 6.35-pounds was caught late last week by Don Winchester of Paris. The smallmouth won big fish in a local tournament that day too!.
Bass have been quite scattered on the deep ledges as many anglers are having trouble finding a concentration of big fish there. A few good ones have been taken on Carolina rigged lizards and worms. And, big deep diving crankbaits have also produced, along with large Texas rigged worms and jig and pig combos.
The river islands and treelaps are holding minnows and bass have been chasing baitfish around those areas all week. There's a lot of small bass in the shallow habitat right now.
A few sauger are showing up on the main lake ledges as anglers troll deep diving crankbaits. And, several stripers are out there too as anglers are reporting fish in the 3 to 6 pound range taking chrome colored baits.
Some bluegill are hitting crickets and grubs tossed around the shoreline where mayflies are present. The weeks ahead will offer some fast action for flyrod enthusiast so now is the time to get out the popping bugs and go at it.
Look for some big mayfly hatches in the weeks ahead.
For The Lake Barkley Report
Click Here
Also check out our past:
Kentucky Lake Fishing Reports
Steve McCadams
Steve McCadams is one of the nation's best known Crappie Fishermen and a full time resident of Paris, Tennessee. Steve is also a professional hunting and fishing guide here in the Paris Landing area.