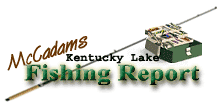 Brought to you by: Fishtale Lodge
June 24, 2010

ANGLERS FIND BITE HOLDS UP DESPITE HEAT

The summer fishing scene is holding up well for Kentucky Lake anglers despite above average temperatures. Although the weathermen have been preaching doom and gloom as to outdoor activity a light breeze most mornings on the lake has made it quite tolerable.
Add a little cloud cover to a light breeze and the fishing scene has not been near as bad as the media makes it out to be. Rising early and fishing until midday or some late afternoon outings have been the ticket.
Iíve been on the lake about six days a week throughout the month of June and the crappie and bass fishing has held up pretty good. Keeping plenty of cool drinks handy and applying sunscreen has help make for some pretty good outings.
Crappie continue to hit pretty good and have shown a preference for live minnows and jigs tipped with minnows. Popular colors have been white/red, white/black, and some orange/chartreuse combos just to name a few.
Productive depth ranges have been 13 to 16 foot zones where stumps, brush, and stakebeds are located but some fish are also relating to deeper sides of drop-offs in 18 to 22 foot depths.
A few boats have been trolling crankbaits along main lake ledges and out over open water near channels and finding some fish scattered there.
Overall the June crappie fishing has held up well and a lot of anglers who only fish during the spring continue to overlook the early summer bite.
Bass patterns are pretty much on track for summer but a variety of areas are giving up fish. Abundant schools of pin minnows are visible around blow downs, weeds, and buck bushes. Boat docks and piers are holding the bait fish too so tossing a worm, spinnerbait, shallow running crankbaits or a topwater plug of your choice will produce results.
Despite high surface temps there always seem to be some fish running the shallow banks and shoreline habitat around islands. Find the baitfish and youíll encounter some bass.
Water levels are a few inches above summer pool and that inundates more shoreline structure for shallow water bass fishermen. You can get lots of bites by flipping or pitching a jig, lizard, or worms around some outside cover.
Deep drop-offs will continue to produce some fish throughout the summer and current is a big factor at times. Find a little movement in the water and the fish respond better.
Tossing Carolina rigged worms and lizards continues to be a popular technique as are the big deep diving crankbaits, jig and pig combos, swim baits, and even vertical fishing some spoons.
Popular crankbaits and colors have been Normanís DD22, Strike King Series 6 and KVD Red Eye Shad, Mannís Deep Pig and Bandits in such shades as blue/chartreuse, chrome/black, Tennessee shad, and bone with glitter. Worm colors producing have been pumpkin-pepper, red shad, black/blue, green pumpkin pepper and even some chartreuse glitter. Stormís brush hog series has been popular as have Berkley Power bait variations of plastic worms, crawfish, and lizard imitations.
There are a lot of small bass all over the lake and seems going deeper is not a guarantee that bigger fish are there but most of the larger tournament stringers are coming from main lake humps and ledges.
Mayfly hatches have been showing up but inconsistent as to their whereabouts. A few flies were seen in the Paris Landing area earlier this week and down around Danville Bridge and up north toward Panther and Byrd Bay.
Itís that time of the year when the mayfly hatches will appear literally overnight and especially during and after a thunderstorm.
Catfish have been showing up in midrange depths and shaking hands with crappie fishermen on a daily basis. As the warmer weather lingers watch for the catfish to hit the main river and stay there the rest of the summer so fishing along the riverbank should start improving.
Bluegill and assorted sunfish are hitting fair beneath the mayflies and along steep gravel banks on the main lake where shade enters the picture.
Surface temps this week have responded to the duration of hot weather and are in the 87 to 92 degree range. Water is clearing over most of the reservoir.
Elevation is somewhat surprising as readings are about a foot above summer pool this week. TVA projects an elevation of 360 going into the weekend around New Johnsonville while the Kentucky Dam sector will be in the 359.8 range.

Also check out our past:
Kentucky Lake Fishing Reports

Steve McCadams is one of the nation's best known Crappie Fishermen and a full time resident of Paris, Tennessee. Steve is also a professional hunting and fishing guide here in the Paris Landing area.