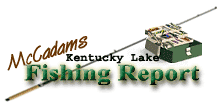 Brought to you by: Fishtale Lodge
Steve McCadams'
Kentucky Lake Fishing Report for:
June 22nd, 2007
Mayfly hatches entered the fishing scene on Kentucky Lake last Friday morning. It was the first big hatch of the summer season with several more likely on the horizon.
Technically speaking, it was still spring when the hatch occurred. But then again, mayflies rarely every hatch here in May so we ought to call them June or July flies to make it more appropriate anyway.
Meanwhile, summer officially arrived Thursday but several species of fish have already been in their seasonal patterns.
Lake levels this week have been relatively stable with very little current in the main river. Observed elevation at Kentucky Dam has stayed around the 358.4 range while upstream at New Johnsonville lake stages were resting in the 358.3 zone.
The reservoir continues to sleep below summer pool elevation as it has now since late May.
Surface temperatures warmed some this week with readings in the 80 to 84 degree range. Water color remains clear.
Bass continue to bite with some hefty stringers coming from main lake ledges and humps where two depth extremes are found close together. Most anglers are tossing either big crankbaits, large Texas rigged worms, Carolina rigged worms and lizards, or jig and pig combos.
Most of the winning tournament stringers are coming from deep water venues as anglers back off the banks in search of larger fish. There are still some fish lingering around shallow grass and treelaps if you find schools of pin minnows, however.
The recent mayfly hatches may further contribute to some shallow action where spinnerbaits, worms, and floating worms or stickbaits will pay off, especially in the early morning and late afternoon hours.
Grass and various aquatic weeds are present in many bays now and offer visible structure to shallow bass activity and minnows.
Crappie are holding up well with a lot of fish still residing in deep stakebeds and brush piles. Depths of 11 to 15 feet have given up fish the last few weeks and are still producing as anglers vertical fish jigs and live minnows around the submerged structure.
Warmer weather has also increased activity on the deeper sides of ledges where stumps and brush can be located in 18 to 25 foot depths. Bottom bumping rigs with live minnows and jigs seems to be working well as the deeper areas have improved this week.
Small jigs in the 1/16-ounce size tipped with minnows have worked well. Unpainted leadheads are appealing to finicky crappie as are some white and black. Small skirts are optional as the fish seem to like that live minnows tipped on a naked leadhead.
Some days the fish are taking tube skirted or hair bodied jigs tipped with both a minnow and Berkley Power Bait nibble.
Action has been best on cloudy days with a light ripple on the surface. The calm days with high skies have seen action slow down at midday as the fish become light sensitive and finicky in midrange depths due to the clear water.
Some bluegill action and assorted species have been taken near steep banks where mayflies are falling to the surface. Casting light tackle with beetle spins, Rooster tails, and crickets or worms will produce a lot of action from bluegill, yellow bass, assorted sunfish and a bass or two.
Catfishing has been fair for some anglers tossing out jugs and allowing them to drift over main lake flats or back in the bays. Not much action lately on the main river due to lack of current but that can change on a day to day basis.
A few scattered sauger are showing up in the creel of crappie fishermen as the rusty rascals tag a jig or minnow now and then. There appears to be a few more fish in the 12 to 13 inch range this summer but a few are making it to the 14-inch minimum length limit.
For The Lake Barkley Report
Click Here
Also check out our past:
Kentucky Lake Fishing Reports
Steve McCadams
Steve McCadams is one of the nation's best known Crappie Fishermen and a full time resident of Paris, Tennessee. Steve is also a professional hunting and fishing guide here in the Paris Landing area.