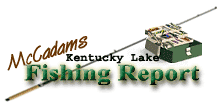 Brought to you by: Fishtale Lodge
Steve McCadams'
Kentucky Lake Fishing Report for:
June 2nd, 2006
Fishermen continue to chalk up good stringers of crappie and bass this week on Kentucky Lake. Summer is just under three weeks from officially arriving on the calendar but out on the lake it feels like summer is already here.
Crappie action has been consistent for several weeks now and some nice catches were reported this week. A lot of fish continue to find a comfort zone in the 13 to 15 foot depths where submerged structure is attracting them.
Anglers have landed some good fish while working the deeper stakebeds and brushpiles lately, along with stumps found in midrange depths. There is a mixture of year classes showing up as a lot of small fish are mixed right in there with some average to large fish.
Baits of choice continue to be jigs tipped with live minnows. Some anglers are reporting decent results on just jigs while others are using live minnows exclusively. Yet the most consistent stringers are coming from the combination of the jigs and minnows worked together.
Deeper zones are also producing good numbers of crappie. Depths of 19 to 23 feet were giving up nice fish this week. Watch for those main lake drop-offs to improve in the weeks ahead.
Some anglers are trolling crankbaits and picking up crappie along main lake ledges, along with a mixture of sauger, white bass, and stripers. And yes, a lot more stripers are showing up in the creel of anglers and there also appears to be a lot of smaller stripers out there too!
Surface temperatures warmed up a few degrees from last week at this time. Present surface temperatures are running in the 80 to 84 degree range.
Water color remains clear throughout the Paris Landing and Big Sandy sectors, despite some heavy rains and thunderstorms lately. Minor stain is present in the upper end of some bays while additional stained water is present along the Tennessee River islands.
Lake stages rose a few inches at midweek but have settled back to 359.1 for the New Johnsonville area. Downstream at Kentucky Dam water levels are expected to be slightly higher going into the weekend with projections of 359.4.
Bass behavior continues to lure a lot of anglers in that direction as action has been good. Both shallow and deep water patterns are paying off too.
Some dandy stringers continue to come from weedbeds, river islands, and blowdowns along the deeper banks of pockets and main lake shorelines. A lot of pin minnows are on the prowl, attracting bass to their locales.
Popular lures have been floating fluke style worms, Texas rigged worms and lizards, spinnerbaits, buzzbaits, and shallow running crankbaits.
The deeper ledges are giving up some larger fish for anglers tossing big crankbaits such as the Bill Norman DD22, Poe's 400 series, and Mann's Deep Pig in the pearl, chrome, and chartreuse and black combinations.
Carolina rigged lizards and worms are working well, along with jig and pig combinations in black and blue.
Catfish action has been fair for bank fishermen but appears to be improving for deeper water anglers stalking the river channel. With surface temperatures warming watch for more action from the summer venues.
Bluegill and shellcracker were hitting fair earlier this week but appear to be coming off bed and scattering, which is a normal post-spawn pattern. Watch for bluegill to keep biting but scatter in shallow areas awaiting mayfly hatches in the weeks ahead.
For The Lake Barkley Report
Click Here
Also check out our past:
Kentucky Lake Fishing Reports
Steve McCadams
Steve McCadams is one of the nation's best known Crappie Fishermen and a full time resident of Paris, Tennessee. Steve is also a professional hunting and fishing guide here in the Paris Landing area.