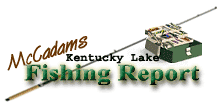 Brought to you by: Fishtale Lodge
Steve McCadams'
Kentucky Lake Fishing Report for:
June 20th, 2003
This weekís Kentucky Lake fishing report is still a good one for a variety of anglers.
Crappie action is good and the bass and catfish activity is holding up well. The summerís first mayfly hatch occurred last week too. So the bluegill are still on the angling menu.
Surface temperatures this week were in the 77 to 79 degree range and have warmed slightly from last week.
Watercolor is still clear throughout the main lake area of Big Sandy but there is some stain in the secondary bays due to a lot of rain earlier this week.
The Tennessee River portion of Kentucky Lake has some stain too as to some of the major bays due to recent rains.
Observed lake elevation at New Johnsonville is right around the summer pool level of 359. Itís about the same at Kentucky Dam too.
The lake has been falling slowly this week and anglers have had some current in the main river.
Crappie continue to hit good in such depth ranges as 11 to 14 feet. Anglers are catching some good size fish too. While some anglers are trolling and finding fish taking jigs and small spinners, others are having good luck with vertical presentations over stakebeds and brushpiles.
Jigs tipped with minnows are working best. The cloudy days have really kept the crappie biting in the midrange depths, although a few fish are residing in deeper ledges on the main lake.
Bass have been hitting good this week for anglers working both shallow weedbeds and bushes along shorelines. The willows along main river islands have produced some dandy stringers too, although the larger fish are somewhat hard to come by.
Some anglers are working the main lake ledges with big crankbaits, Carolina rigs, and Texas rigged worms in hopes of finding some larger fish. However, there seems to be a lot of fish in the 14 to 15-inch size range whether you fish deep or shallow.
Popular lures continue to be the shad colored crankbaits and chartreuse and blue. Black and blue jigs are working, as are worms in the red shad, blue, and Tequila Sunrise colors.
Early morning and late afternoon continue to produce some decent topwater action. Jerk baits such as flukes and slugos are working, along with Stormís Chug Bug and Rebelís Pop-R.
Tossing a spinnerbait or buzzbait will get you some strikes too as the baitfish are still relating to shoreline habitat such as bushes, grass, logs, and willows.
Catfish are still on the prowl and some big ones are being taken along the main river channel lately. Some anglers are working the main riverbank while others are fishing the deep holes with heavy tackle.
Popular baits continue to be nightcrawlers, leeches, chicken livers, and shrimp.
Mayfly hatches are underway along the main river islands and shorelines. There was a big hatch last Sunday in the Lick Creek area. Look for more hatches this week all along Kentucky Lake too.
Now is the time to swing the flyrod and popping bugs or cast ultralight tackle beneath the overhanging trees. Youíll see some fast action from a variety of fish, namely bluegill, bass, and long ear sunfish.
Some sauger are hitting crankbaits on the main lake ledges. A few anglers are trolling for them and finding a keeper now and then.
Fishing is good so take advantage of the action before the doldrums days of summer arrive.
For The Lake Barkley Report
Click Here
For Other Kentucky Lake Fishing Reports
Click Here
Steve McCadams
is a professional hunting and fishing guide here in the Paris Landing area and host of The Outdoor Channel's television series IN-PURSUIT.