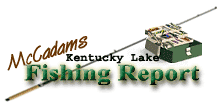 Brought to you by: Fishtale Lodge
Steve McCadams'
Kentucky Lake Fishing Report for:
June 18th, 2004
KENTUCKY LAKE RETURNS TO NORMAL ELEVATION
Water levels have been falling all week here on Kentucky Lake as TVA attempts to draw the reservoir back down to normal summer pool elevation.
After a week of high water, TVA really pulled the plug early this week as the reservoir started falling several inches each day. You could tell a difference in elevation from morning to afternoon.
There was a lot of current in the Tennessee River this week, which seemed to stimulate baitfish movement.
By this weekend, the reservoir will be at the 359 mark, according to TVA projections.
Mayfly hatches have been underway and that's a clear indication that summer patterns are here. And, summer officially arrives on Monday but most of us who were on the lake last week felt like the warm temperatures and humidity, coupled with those afternoon thunderstorms, had already escorted the change of seasons. It sure felt like summer out there!
Surface temperatures are in the 80 to 84 degree range. Watercolor is mostly clear throughout most of the reservoir, although a few points or islands may have some dingy water where wind has whipped up the shoreline.
Bass action has been fair but will likely improve for most anglers as the lake levels return to normal. The high water last weekend and throughout the week has scattered the fish, especially the shallow bass who have been running the banks and submerged weed beds.
The schools of pin minnows have had too much water and that has made it tough to pattern shallow fish lately. Anglers were finding several small bass taking spinnerbaits, flukes and floating worms, and some Texas rigged worms and lizards around the visible bushes and willow trees in coves and along river islands.
Some shallow running crankbaits were also producing when worked over submerged weedbeds. And, the bass always seem to feed on the mayflies too so they've had an abundance of food sources.
A few bass remained on main lake ledges where anglers were tossing big, deep diving crankbaits, along with Carolina rigged lizards. It appears some of the larger fish are backing off the banks but the high water has had some negative effect on the deep fish too.
With falling lake levels comes current so that should enhance the activity in the days ahead. A lot of island points will have minnows schooled behind structure in attempts to dodge the current and that will help congregate the bass.
Main lake ledges will improve too as some of the shallow bass that have been roaming the banks will now pull back to ledges and relate to submerged stumps and brush.
Mayfly hatches around the Paris Landing area this week have attracted several bluegill and bass. Anglers can have a lot of fun with light tackle beneath the overhanging trees as must about every specie of fish is roaming the buffet line there.
Toss some small grubs or crickets and you'll get plenty of action. You might catch a few small fish mixed in but chances are you'll hook up with a few good bream or bass during the day, not to mention a catfish or two.
Crappie action remains good and veteran guides are catching some good stringers while dunking jigs tipped with live minnows. There's a lot of small fish biting but you'll also find several fish exceeding the 10-inch minimum length limit.
Some fish are coming from the deep ledges on the main lake where depths of 18 to 20 feet have produced. There's also several fish relating to structure in the midrange zone of 12 to 14 feet where manmade stake beds and brush piles are located.
Sauger are showing up with a little more regularity this week. The main lake ledges are holding some fish in depths of 12 to 15 feet. And, on cloudy days the sauger are moving up on top of the ledge so trolling might pay off this week if you find the right colored crankbait.
A few white bass and rockfish are hitting around the piers at the Ned McWherter Bridge as current has stimulated baitfish activity there this week.
Catfish are on the prowl and moving back to the edge of the riverbank. Depths of 20 to 30 feet should pay off this week, as current will work in favor of catfishermen. Nightcrawlers, chicken liver, and leeches are the most popular baits.
All in all, fishing will improve as the lake stages fall and current stimulates baitfish activity this week. It should make it easier to pattern fish now that the high water is leaving.
For The Lake Barkley Report
Click Here
Also check out our past:
Kentucky Lake Fishing Reports
Steve McCadams
Steve McCadams is one of the nation's best known Crappie Fishermen and a full time resident of Paris, Tennessee. Steve is also a professional hunting and fishing guide here in the Paris Landing area.