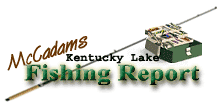 Brought to you by: Fishtale Lodge
June 17, 2010

MAYFLY HATCHES ESCORT SUMMERíS RETURN

Despite the heat summer fishing has held up well this week on Kentucky Lake as some nice stringers of crappie, bass, and catfish have been taken. Truth is, the light winds and some cloud cover have made it quite tolerable for anglers, especially in the early morning and late afternoon hours.

Lake levels this week were staying just above the summer pool mark at both Kentucky Dam and upstream around the New Johnsonville area. Elevation was expected to be in the 359.5 range going into the weekend.

Water color is clear along the main Tennessee River while a slight stain is present throughout Big Sandy.

Surface temps have been in the 84 to 88 degree range and similar to last week at this time.

Crappie have been hitting good in deep stakebeds and brushpiles. Depths of 12 to 15 feet have been producing good numbers and some nice size fish have been taken.

Jigs tipped with shiner minnows are working best but a few fish were taking just jigs at times. The fish are relating well to structure on main lake flats and near drop-offs.

Other techniques such as trolling crankbaits and spider rigging have also produced.

Catfish have been hitting as well and several crappie anglers are typing into them while fishing deep cover. Most of the catfish have backed off the banks and are now in-between deep summer patterns and spawning territory.

Depths of 10 to 20 feet have been popular but watch for fish to continue moving toward main river channel areas in the week ahead.

Bass continue to relate well to main lake ledges and humps. A lot of smaller fish are still running pin minnows around treelaps and shoreline bushes and grass, along with blowdowns around islands.

Tossing big crankbaits, Carolina rigs, and hopping jigs around drop-offs has been the bread winner for bigger stringers. Current is a factor for ledge fishermen and most days current has been present by midmorning.

Mayfly hatches are underway in various areas. Earlier this week a hefty hatch occurred in the Paris Landing area as those thunderstorms seem to stimulate the hatches.

Watch for hatches to continue for the next several weeks.

Summer officially arrives on Monday but summer patterns have been underway for several weeks as bass and crappie are about where they should be.

Also check out our past:
Kentucky Lake Fishing Reports

Steve McCadams is one of the nation's best known Crappie Fishermen and a full time resident of Paris, Tennessee. Steve is also a professional hunting and fishing guide here in the Paris Landing area.