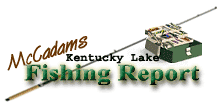 Brought to you by: Fishtale Lodge
Steve McCadams'
Kentucky Lake Fishing Report for:
June 16th, 2006
GOOD FISHING AWAITS YOU…SEVERAL SPECIES HITTING GOOD
From the fishing scene comes consistent reports from both crappie and bass anglers on Kentucky Lake. And, catfishermen are enjoying increased activity too.
Anglers enjoyed a brief hiatus from the hot weather earlier this week as a few cool days slipped in the door courtesy of brisk north winds. White caps danced in the open waters and made it tough for some main lake anglers but by midweek things were returning to normal as to both wind and temperatures.
Observed lake elevation in the New Johnsonville area was 359.1 late this week while downstream at Kentucky Dam readings were 359.3. The lake has seen minor fluctuations this week.
Surface temperatures are in the 79 to 83 degree range. Watercolor is clear in Big Sandy but some dingy color is present in portions of the Tennessee River.
Nice stringers of crappie continue to come in and June is a month overlooked by most anglers. Depths of 12 to 15 feet are giving up good numbers of fish. There are also decent catches coming from 18 to 24 feet on the deep side of main lake ledges.
Anglers are working those brushpiles and stakebeds in midrange depths and finding decent fish residing there. It's not unusual to catch several small fish mixed in but some dandies are residing right there with them so expect to cull a few.
Live minnows are producing and jigs tipped with minnows are good too. Some fish were taking small black and chartreuse colored jigs too.
The bottom bumping rigs armed with jigs and live minnows are producing for anglers working those main lake ledges.
A few folks are trolling crankbaits and pulling some jigs on long-line style techniques and finding success. This is the time of year when trolling crankbaits will catch you just about every specie of fish in the lake too. From sauger to catfish, trolling deep diving crankbaits will put you in the fish.
Bass anglers continue to find the biggest stringers out on the main lake ledges where deep diving crankbaits and Texas rigged worms are working best. Some anglers are popping that jig and pig combo while others work Carolina rigged lizards.
Most of the tournament winning stringers are coming from deep drop-offs in 10 to 14 foot zones with some fish holding off on the deep side where structure is found.
The increased number of bass being caught in deep water is likely due to the clear water conditions. There are still some fish in the shallow areas too and you can have lots of fun fishing the pin minnows that school around weedbeds and river islands where blowdown trees are present.
Working a spinnerbait or pitching a worm will get you some bites and some fish are hitting topwater in the early morning and late afternoon hours too.
Mayfly hatches were scarce earlier in the week but watch for another hatch to occur any day. Seems those larger hatches appear as thunderstorms enter the area, giving some merit to the influence of low pressure stimulating mayfly larva to suddenly appear and hatch into adult flies.
Bluegill and bass action will pick up quickly beneath the hatches in the weeks ahead too.
Catfishermen are seeing increased action along the main river channel. Some good stringers have been taken as boaters work the riverbank in depths of 25 to 35 feet. Baits of choice have been leeches, nightcrawlers, and large minnows.
A few sauger were showing up as anglers trolled the top sides of main lake sandbars with deep diving crankbaits. Also showing up in the creel have been white bass with some scattered surface activity.
Increased reports of stripers, referred to locally as rockfish, have come in from bass and crappie anglers who seem to tie into one of the long, slender eating machines on a regular basis nowadays. A lot of the stripers in the in 12 to 14 inch range, indicating some spawning has taken place from these feisty gamefish here on Kentucky Lake.
Fishing is good as the normal summer patterns get underway for a variety of species awaiting your arrival out here on the high seas!
For The Lake Barkley Report
Click Here
Also check out our past:
Kentucky Lake Fishing Reports
Steve McCadams
Steve McCadams is one of the nation's best known Crappie Fishermen and a full time resident of Paris, Tennessee. Steve is also a professional hunting and fishing guide here in the Paris Landing area.