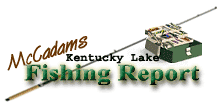 Brought to you by: Fishtale Lodge
Steve McCadams'
Kentucky Lake Fishing Report for:
June 13th, 2003
From the fishing scene comes continued good news for bass and crappie anglers. And, the bluegill and shellcracker are making one last flurry of activity as the full moon approaches.
Surface temperatures this week along Kentucky Lake have been in the 73 to 76 degree range. Due to recent rains and some cool nights, surface temps are a little lower than normal for this time of year.
Observed lake elevation at Kentucky Dam is expected to be 359.4 this weekend, which is a few inches above summer pool. Upstream at New Johnsonville TVA forecasts readings of 359 this weekend. The reservoir has been falling slowly all week somewhat higher readings earlier in the week.
Watercolor is relatively clear in much of Big Sandy and West Sandy. Along the Tennessee River there is some stain on the main river and islands but most of the large bays are clear.
Bass fishing has been good for anglers working a variety of patterns. Shallow grassbeds and shoreline buck bushes have been producing several fish this week as the slightly higher lake levels had plenty of water on shoreline cover.
Topwater action has been good on the cloudy days. Buzzbaits, floating worms, and such jerk baits as Storm's Chug-Bug, Rebel's Pop-R, and Bagley's Bango lure have been working well. Buzzbaits have been good too, especially on the parameter of visible grassbeds.
There continues to be a lot of baitfish in the form of "fry" schools around bushes, grass, and treelaps. Some river islands have been holding fish too as the bases of willows or bushes and grass combos are holding fish.
Spinnerbaits in the white and chartreuse colors with gold, willow-leaf blades have worked well. Texas rigged worms and lizards in the red-shad, green pumpkin-pepper, and black with red metal flake have worked good.
Some larger fish are relating to main lake ledges as anglers toss big deep diving crankbaits and work Carolina rigged lizards and Texas rigged worms there. However, a lot of bass are staying shallow as cooler surface temps and cloudy days have provided a nice comfort zone for them, not to mention a lot of baitfish staying shallow.
Crappie action is good too as several decent stringers were taken this week in the 10 to 14 foot zones. Deep brushpiles and stakebeds are producing.
I found a lot of fish on deep ledges this week but the larger fish there were few and far between. Depths of 18 to 24 feet were holding a lot of small crappie but I found the better grade of fish in the midrange depths of 10 to 14 feet.
Live minnows are working well as were jigs tipped with minnows. Unpainted leadheads with motor-oil and metal flake tube jigs were appealing as were some chartreuse leadheads and chartreuse skirts fished in a vertical presentation.
There's still a few crappie lingering in the shallow weedbeds as there's a lot of minnow activity there. Plus, the cool conditions have kept the fish shallow in some places.
Bluegill and redear (shellcracker) were making another flurry this week as the full moon approaches. Seems the panfish army has made one last bedding effort in shallow water.
Several fish were taking crickets and redworms, along with some artificial grubs. Some shellcracker were using shallow weedbeds where a gravel bottom was present.
Expect a few more days of action on bluegill and shellcracker before they scatter. It's only a week or so before the first mayfly hatch arrives so keep the flyrod handy.
Catfish action has improved lately as some fish are returning to deep venues along the main river. Several decent stringers were taking this week as anglers worked nightcrawlers and chicken livers around deep rocks and ledges along the main river. There has been a little current which has increased activity this week too.
A scattered sauger is showing up now and then and while it appears more sauger are present than last year at this time, many are below the minimum length limit.
Overall, the early summer action is good for several species.
For The Lake Barkley Report
Click Here
For Other Kentucky Lake Fishing Reports
Click Here
Steve McCadams
is a professional hunting and fishing guide here in the Paris Landing area and host of The Outdoor Channel's television series IN-PURSUIT.