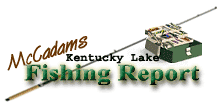 Brought to you by: Fishtale Lodge
Steve McCadams'
Kentucky Lake Fishing Report for:
June 11th, 2004
RISING LAKE LEVELS GREET ANGLERS
Rising lake levels entered the picture for Kentucky Lake anglers this week. The reservoir began rising last weekend and by midweek had jumped over two feet above normal summer pool stage.
Rain upstream has been a factor but the Ohio River has been flooding too, which has caused TVA to hold back discharge at Kentucky Dam.
Despite rising lake levels, crappie and bass action is holding up well. Crappie anglers have to use a little more line to fish those submerged stakebeds, brushpiles, and main lake ledges but the fish are hitting and staying put.
TVA indicated Kentucky Lake was still rising slowly at midweek. At New Johnsonville the level rose to 361.2 while Kentucky Dam reported 361.3 on Wednesday. Normal summer pool elevation is 359.
Several boat docks and campgrounds were beginning to see the adverse effects of rising lake stages this week. Access to some areas was hampered while others just had the inconvenience of some erosion and pickup of driftwood and trash.
However, the lake was a dangerous place this week for boaters as a lot of debris was floating. Huge trees and various objects were potential obstacles at midweek and threatened damage to both boat hulls and lower units of outboards.
Look for the reservoir to fall throughout the weekend and into next week as TVA attempts to draw the elevation back down to summer pool.
Surface temperatures have warmed into the 79 to 83 degree range this week.
Watercolor remains relatively clear throughout the Big Sandy embayment while the Tennessee River has some stain.
Crappie action has been good as the fish continue to stay put on mid-range structure. Depths of 14 to 17 feet are holding a lot of fish.
I found a lot of fish this week on stakebeds and brushpiles as the fish are structure-oriented at this time. A few fish are suspended but the bulk appears to be relating to cover.
Baits of choice have been jigs tipped with live minnows or just a minnow by itself. I used some unpainted leadheads and some sporting chartreuse or deep green colors but it didnít seem to make much difference as the fish were much in favor of the live minnow.
Without the live minnows strikes were greatly reduced, although some fish did take just a jig fished vertically in the structure.
The rising lake levels make it a big more challenging, as you have to fool with more line. And, dragging along a bobber with a live minnow presentation has also accounted for several fish, which are either suspended over the structure or make an attempt to rise and take the bait from their refuge point.
Generally speaking, thereís a lot of fish hitting right now and the action is better than it was a month or six weeks ago for most of us.
Bass anglers have several patterns underway as action has increased in the weedbeds and buck bushes along shorelines and islands. Thereís an abundance of forage in the visible cover as schools of pin minnows are swimming at random. Small bluegill are also darting around the trees and bushes where bugs and soon-to-hatch mayflies offer a buffet.
Some fish are taking worms, lizards, and jigs pitched around the cover. Spinnerbaits and buzzbaits are working too, especially over grass flats or the mix of bushes and grass.
Most of the larger fish have remained on the secondary points and ledges as they move to summer venues. The rising lake stages havenít moved the deep-water fish around.
Anglers are tossing Carolina rigs with lizards and worms on deep ledges. Jig and pig combos are also producing, as are the big crankbaits.
Watch for action to improve this week on the main lake drop-offs as the reservoir begins to fall, creating current that will stimulate activity for both baitfish and larger bass.
Island points could also produce bass this week as baitfish congregate on the points where current has pushed them.
Bluegill have backed off the beds and entered their post-spawn phase. Still, a few good ones can be taken around the bushes and grass if you work worms and crickets slowly. Expect to catch several small fish mixed in with the larger males now that bedding time has passed.
A few sauger are showing up on the main lake sandbars. However, a lot of the rusty rascals are still shy of the minimum 14-inch length limit so keep the measuring board handy and donít guess.
Catfish are pulling back to the riverbank and most anglers are already finding the fish in the summer hangouts of near deep water. Bumping bottom in the 25-foot zones along the river channel is beginning to pay off.
The reservoir has been changing this week as lake levels rise and summer weather heats up. Most fish are heading toward their summer hangouts.
Meanwhile, the first mayfly hatch of the summer season arrived at midweek. There were millions of them in the Paris Landing area on Wednesday.
The bluegill and bass will have gorge themselves this week on the abundant forage base, no doubt.
For The Lake Barkley Report
Click Here
Also check out our past:
Kentucky Lake Fishing Reports
Steve McCadams
Steve McCadams is one of the nation's best known Crappie Fishermen and a full time resident of Paris, Tennessee. Steve is also a professional hunting and fishing guide here in the Paris Landing area.