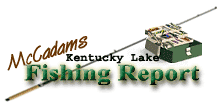 Brought to you by: Fishtale Lodge
Steve McCadams'
Kentucky Lake Fishing Report for:
June 1st, 2007
POST-SPAWN CRAPPIE ACTION HOLDS UP WELL…BASS BACK OFF THE BANKS

Crappie action continues to hold up well as the fish are hitting in midrange depths and on some main lake ledges. Bass have backed on the banks compared to the previous two weeks and a lot of fish are coming from secondary ledges and main lake drop-offs.
Anglers have enjoyed good fishing conditions lately. Stable weather has been hanging around with relatively calm winds mixed with some cloud cover.
Kentucky Lake's elevation continues to hang below the normal summer pool mark and has been several inches shy for the last three weeks. TVA's curve indicates the reservoir is supposed to stay at 359 throughout May and June but that has not been the case this spring.
Presently, elevation at Kentucky Dam is 358.5. Upstream at New Johnsonville the reading of 358.4 is expected to remain throughout the weekend. Both areas indicated the lake is six inches or more below normal summer pool, which means a lot of shoreline habitat, is a bit too shallow to hold decent bass in the visible grass and buck bushes.
Surface temperatures have warmed since last week. The last few days' surface temps were in the 77 to 81 degree range.
Water color remains clear throughout most of the reservoir as a lack of rain and runoff continues to contribute to that scenario.
Crappie have been hitting good in the 12 to 14 foot zones where submerged stake beds, stumps, and brush piles have really given up some good stringers lately.
Late May and the month of June is often overlooked by a lot of crappie anglers. Most think just because the spawn has passed that fish have quit biting but that is not the case as Kentucky Lake's post spawn crappie action is good.
Some main lake ledges are also giving up decent numbers of fish. Depths of 17 to 22 feet were holding crappie this week as well.
Working jigs and minnows around the deep structure has produced as warmer weather, clear water and lower lake levels have pulled good numbers of fish to the deeper areas out away from shallow shorelines.
It appears several good year classes of crappie are present. There are several good size fish being caught and it's not unusual to find several small fish mixed in with the larger fish. Bottom line is that a lot of fish are biting and you get to cull a few on the way to filling the cooler.
Bass action has improved on the main lake ledges lately. Some anglers are still finding bites in shallow shoreline areas and around river islands and blow-downs as pin minnows are now present. The small "fry" appear to be abundant so there has been a good hatch of shad or other fish such as bass, bluegill and crappie as the tiny fish are swimming in schools all around shallow docks, grass, and anything else that offers them refuge from predator fish.
It's that time of year when the big deep diving crankbaits are working well on main lake ledges. Popular colors have been pearl, Tennessee shad, bone, black and chartreuse, chrome and blue, and black and sliver, just to name a few.
Favorite choices have been the Bill Norman series of big lip deep divers and the Poe's 400 series and Mann's Deep Pig or Bandits, just to mention a few.
Carolina rigged worms and lizards are working well as have Texas rigged worms. Favorite color choices have been Zoom and Culprit's black and pearl blue, along with red shad and pumpkin with pepper.
Hopping a jig in the black and blue color has worked on some ledges too. A few smallmouth have also been taking finesse baits and crankbaits worked in their locale.
There are still some bass lingering around shallow structure, especially if you find the deeper banks or deep water close by. However, it's that time of the year when the winning stringers in tournaments are coming from main lake drop-offs.
For bluegill enthusiast the action seemed to taper off the last week as the fish have not been aggressive in fanning their beds. A few good bull bream have been taken but fish were scattered compared the previous two weeks.
Lower lake levels have had some affect on the shallow bedding areas too as it appears many of the shellcracker and bluegill backed out of the extremely shallow grass and bushes that attracted them during the first wave of spawning back in early May.
Another full moon is upon us this weekend so the powerful panfish should see some improvement as they make a late spawning attempt and congregate for their final ritual of spring. Watch for some improvement around those grassy shorelines and sandy or gravel bottoms in secondary pockets out away from the visible shoreline.
Catfish action has been fair but the rock banks have been ho-hum lately for a lot of anglers who saw action decrease this week.
It appears some fish are moving back out toward midrange depths as their spawning phases have come and gone. This week there were several pontoon and small boats watching over jugs that drifted in the wind so some anglers are finding them with that method.
For The Lake Barkley Report
Click Here
Also check out our past:
Kentucky Lake Fishing Reports
Steve McCadams
Steve McCadams is one of the nation's best known Crappie Fishermen and a full time resident of Paris, Tennessee. Steve is also a professional hunting and fishing guide here in the Paris Landing area.