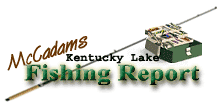 Brought to you by:





June 10, 2011

JUNE CRAPPIE BITE IS ON…HOT TEMPS FAIL TO PUT CHILL ON FISHING


Kentucky Lake's June crappie fishing has been quite productive lately and a few anglers are landing some nice stringers while the bulk of fishermen overlook this underrated month. Although hot weather has arrived early and temperatures have been above average, the fishing has held up well and shows no signs of letting up.

Each year June offers a stable lake levels and usually the weather is predictable and free of cold fronts and gale winds. Compare June to March or April and you'll discover a month where fishing patterns hold up well from week to week as there are not as many variables to deal with.

Crappie are right on schedule lately as they occupy structure in the midrange depths. Spawning phases have come and gone and the fish have found a comfort zone in-between spring spawning areas and summer hideouts. Good numbers of fish are residing in the 9 to 14 foot depth range despite rising surface temps.

Although some anglers are trying deeper water during the unusual warm spell the fish are choosing to stay around main lake flats or drop-offs near deep water. It appears a lot of threadfin shad are attracting the crappie to relatively shallow areas lately.

Good numbers of fish were taken by anglers vertical fishing jigs tipped with minnows around stakebeds and brushpiles. Crappie have also been taken by anglers trolling crankbaits and jigs near main lake ledges and flats.

Kentucky Lake's fishing scene is holding up well for both bass and crappie anglers in spite of hot summer weather. The days with light winds have not been too bad, especially if you get an early start.

There are still some bluegill and shellcracker lingering around the outside weedbeds too as decent catches continue to come in from anglers tossing crickets, redworms, and wax worms. Although bluegill and redear have spawned, some are still hanging around shallow spots.

Earlier this week a pretty good mayfly hatch occurred in the Paris Landing area, which is somewhat early as traditionally the first hatch happens in mid to late June. Perhaps the summer weather conditions moved up the timetable this week.

Lake levels rose a few inches this week for some unknown reason and elevation going into the weekend will be 359.5 at both Kentucky Dam and upstream at New Johnsonville Steam Plant. TVA has not been pulling much current.

Surface temps responded to the hot weather and climbed into the 85 to 88 degree range this week, which is up a few degrees from last week at this time. Water color is clear in the entire Big Sandy area and pretty much across the reservoir as no rain has fallen in well over a week.

Bass fishing has been fair to good with the hot weather influencing fish to move toward main lake ledges and humps, although some smaller fish are still running the outside parameters of visible weedbeds and buck bush shoreline habitat. A lot of smaller fish were also taken around river islands and blown down trees on the main shoreline and island rims where anglers have tossed spinnerbaits and short billed crankbaits.

Summer patterns are underway and ledge fishing is popular with big deep diving crankbaits, Carolina and Texas rigged worms or lizards, jig and pig combos, and some swim baits producing.

Popular color choices for Texas and Carolina rigs have been green gourd, watermelon, pumpkin pepper, cotton candy and June bug.

Big deep diving crankbaits are producing fish with popular color choices ranging from Tennessee shad to shades of chartreuse and black. A few anglers are hopping a jig and craw combo and fooling some larger fish but overall, numbers of bass are good with big fish playing hide-and-seek.

A few bass are still taking surface baits such as buzzbaits and jerk baits worked around grassbeds. With mayfly hatches underway and a few pin minnows entering the picture there will continue to be some shallow water action despite hot weather.

As to the ledge bite it seems fish are hitting best when slight current is present but TVA has not been drawing water much this week as rainfall has diminished.

Some catfish were caught this week by crappie anglers working the 9-14 foot depths zones in the main lake. Some jug fishermen were scoring while using nightcrawlers and chicken liver for bait.

It appears slightly cooler conditions and some rain could enter the picture next week. Although the weather has been hot, so has the fishing scene so don't let the good fishing pass you by.


Also check out our past:
Kentucky Lake Fishing Reports

Steve McCadams is one of the nation's best known Crappie Fishermen and a full time resident of Paris, Tennessee. Steve is also a professional hunting and fishing guide here in the Paris Landing area.