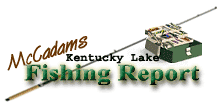 Brought to you by: Fishtale Lodge
June 10, 2010

June fishing has been good for crappie anglers who have landed some nice stringers lately from midrange depths. In fact, Kentucky Lake has been kind to several anglers lately ranging from bass to catfish and bluegill too.
This early summer fishing is overlooked by a lot of folks as the weather has been decent and lake levels remain stable.
Surface temps are in the 81 to 84 degree range this week. Water color is in good shape with a slight stain in places.
Lake levels at Kentucky Dam are in the 359.6 range. Upstream at New Johnsonville the elevation is 359.3. The readings are similar to last week at this time.
Crappie have been hitting good in the 12 to 15 foot depth range this week. Tightlining jigs and tipping them with minnows has produced some hefty stringers.
Structure such as stakebeds and brushpiles are holding good fish, although the bites are light. Itís not unusual for crappie to stage in the midrange depths before hot summer arrives and so far they are right on track.
Popular jig colors have ranged from white/chartreuse to white/blue and motor oil with glitter. A few fish are taking just jigs and tipping with Berkley Power Bait has stimulated bites as well. However, the fish are showing a preference for that live minnow, which is typical for this time of year.
Some fish have been taken along the deeper sides of main lake ledges but scattered at best. The 18 to 25 foot depth range will begin to attract fish in the weeks ahead but it appears the fish are note quite that deep just yet.
Another pattern that produces crappie this time of year is trolling crankbaits along the edge of main lake ledges.
Bass tournaments have the area buzzing as both the Triton Boat Owners and Bassmaster Elite have dropped anchor in the Paris Landing area the last two weeks. The leading stringers are coming from drop-offs where anglers are using Carolina rigs, big crankbaits, Texas rigged worms, and hoping jigs.
Current has been stubborn to present itself until around midday lately and that is a factor for ledge fishermen. When current is present it stimulates baitfish activity and increases the attitude of stubborn bass while stagnant winds and no current make it tough.
There have been some stringers averaging 4 and 5 pounds for the leaders but there have also been some tough days out there for a lot of veteran anglers as fishing pressure is a factor.
Despite some hefty stringers in the 25 pound range winning tournaments, some very good fishermen are struggling to catch limits so those big fish are not everywhere.
Bassers looking for the bigger bites---and isnít everyone---are keying in on some main river ledges and humps where shell beds are present. Sometimes structure is not a factor as the fish hang out over the sandbars and suspend at times.
While the ledge fishing is the most popular pattern a lot of fish are roaming the island rims and blowdown treetops where schools of pin minnows are attracting bass. You can get a lot of bites around some deeper bushes and cover when current is present or wind is blowing in the baitfish.
Tossing a spinnerbait, Texas rigged worm or crawfish, and assorted topwater jerk baits will get you plenty of strikes. You can still find fish and have lots of fun by working the shallow shoreline cover.
A few mayflies were observed this week in the Paris Landing area and itís due time for a big hatch. Some bluegill are hanging around docks and piers where you can catch plenty while using crickets.
Catfish are making a transition from the rocky banks to midrange depths. The 10 to 15 foot depth range is holding a lot of catfish. Some jug fishermen are scoring nice stringers as they use nightcrawlers drifted over flats.
A few scattered sauger are showing up on the sandbars too as both crappie and bass anglers are finding a few at times.
Itís still late spring for another week or more but these summer patterns are already underway and worthy of pursuit.

Also check out our past:
Kentucky Lake Fishing Reports

Steve McCadams is one of the nation's best known Crappie Fishermen and a full time resident of Paris, Tennessee. Steve is also a professional hunting and fishing guide here in the Paris Landing area.