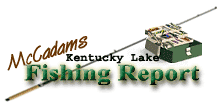 Brought to you by: Fishtale Lodge
Steve McCadams'
Kentucky Lake Fishing Report for:
June 10th, 2005
SUMMER FISHING HEATS UP
Summer patterns are well underway for Kentucky Lake anglers.
Fishing has been good this week for crappie and bass. A few success stories are coming in from catfish anglers too.
Mayfly hatches are also underway in some sections of Kentucky Lake. So the bluegill action is about to improve for that style of fishing.
Lake levels have been staying around the summer pool mark of 359 at both Kentucky Dam and here in the Paris Landing sector. A little current has been present in the Tennessee River on some days as TVA generates but lake levels are relatively stable.
Surface temperatures have been in the 80 to 83 degree range due to the hot days and nights.
Watercolor remains clear throughout the Big Sandy area with slightly more stain along the Tennessee River islands.
Although hot weather entered the picture this week, it didnít seem to bother the crappie as action has been quite good in midrange depths. Some dandy stringers are coming from 11 to 14 foot zones.
Crappie are hitting jigs pretty good but they like them even better when tipped with a minnow. And, several fish are taking a minnow fished beneath a bobber or tightlined down in submerged structure.
Some fish are already moving toward the deep sides of main lake ledges in 16 to 20 foot zones but the bulk of fish this week have been in that midrange zone where stumps, brush, and manmade cover is attracting them.
Look for the action to hold up throughout the month as fish continue to move deeper.
Bass action has been decent in shallow water weedbeds and river islands where schools of pin minnows are relating to visible structure. Itís that time of year when you can find some fish shallow if you find those minnows.
Spinnerbaits, buzzbaits, Texas rigged worms, and some floating worm varieties continue to produce fish in shallow cover in the early morning and late afternoon hours. A few cloudy days will help shallow anglers too but lately the cloud cover has been stubborn to stay around.
Most of the larger fish continue to move toward ledges in the 8 to 14 foot zones that are close to deeper water. Several of the wining tournament stringers have come from anglers working the drop-offs lately.
Popular lures continue to be big deep diving crankbaits in Tennessee Shad, chartreuse and pearl, and chrome and blue combo colors. Carolina rigged worms and lizards are working well as are Texas rigged worms in pumpkin-pepper and red shad colors.
A few anglers are hopping jig and pig combos along ledges and finding some bigger bites. Some hefty smallmouth are showing up too, taking small grubs and crankbaits.
Watch for action to improve along the river islands and treelaps this week as minnows congregate tight on structure.
Catfish have been on the prowl and anglers are finding them in 14 to 25 foot depths. Some jug fishermen have scored has have pole holders working the edge of the main river channel.
The main riverbank will continue to improve for catfishermen as the summer weather heats up and the fish respond to current.
A few scattered sauger are showing up along main lake ledges but no consistent reports have come in.
Summer patterns are well underway, even though the season doesnít officially arrive for another ten days or so.
For The Lake Barkley Report
Click Here
Also check out our past:
Kentucky Lake Fishing Reports
Steve McCadams
Steve McCadams is one of the nation's best known Crappie Fishermen and a full time resident of Paris, Tennessee. Steve is also a professional hunting and fishing guide here in the Paris Landing area.