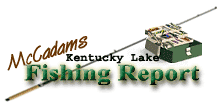 Brought to you by: Fishtale Lodge
Steve McCadams'
Kentucky Lake Fishing Report for:
June 6th, 2003
CRAPPIE AND BASS ACTION IMPROVING
This week's fishing scene is good for bass anglers and crappie action is improving. Kentucky Lake is back down to a normal supper pool elevation so fishing patterns should be back to normal for most species.
Bass have been hitting good around shallow weedbeds, buck bushes, and blowdowns along the river islands. There are a lot of pin minnows in places so if you find the schools of baitfish you'll likely find the bass right there with them.
A lot of small fish are being caught but it's still good fishing to feel that tug on your line. Spinnerbaits with a blue and chartreuse skirt have been producing well. A gold willow-leaf blade is working too.
Topwater action has been good in the early morning and late afternoon periods. Tossing a buzzbait is producing strikes, along with floating worms and other stickbaits such as the Storm Chug Bug and Bagley's Bango lure.
A few fish are falling back to points and main lake ledges this week too. Some anglers are finding fish while casting Carolina rigs with lizards and also fishing big crankbaits. The summer patterns of deeper ledges will improve in the weeks ahead too.
A few fish are taking black and blue jigs as anglers pitch and flip around shoreline habitat. Some scattered smallmouth have shown up as anglers fish finesse baits on main lake points and ledges or work the current around bridge piers and rock levees.
Crappie continue to improve, as anglers are finding fish on main lake ledges in the 15 to 20 foot zones. Anglers using bottom-bumping rigs baited with live minnows are finding several fish. Jigs are working in the deep venues too with popular colors being the orange and chartreuse, blue and chartreuse, and lime with red glitter.
Several fish are lingering in the midrange depth of 10 to 14 feet. Deeper stakebeds and brushpiles are holding several fish. You'll catch several small ones but likely find a few keepers mixed in with them.
Jigs tipped with minnows were working for me this week. I caught a few fish on just a jig but it seemed the addition of a live minnow enhanced the presentation.
Watercolor in the Big Sandy area was quite clear compared to last week. Some bays have a little stain where wind has blown in but overall the watercolor is clear.
The upper end of Big Sandy in the mudflats had some dingy water. Elsewhere, water was somewhat stained on the main Tennessee River while the large bays were sporting clear water once you pass the mouth.
Surface temperatures are in the 71 to 75 degree range and will likely warm a degree or two this week.
Observed lake elevation in the New Johnsonville area was holding in the 359 range. Readings at Kentucky Dam were slightly higher as elevation there was in the 359.4 range. There is a little current along the main river.
Catfish anglers were finding some fish returning to rock banks this week. A few success stories came from both Danville railroad levee and along the rocks on the Stewart County side of the Ned McWherter Bridge.
Overall catfishing seemed to suffer during the high water period as many of the fish scattered and moved back up in bays and creeks, abandoning their normal spawning venues.
Bluegill and shellcracker have still been hitting but activity has slowed from the peak of late May. A few shellcracker were still relating to weedbeds and gravel points this week in relatively shallow water.
Some bluegill were still on beds in a few areas but many of the males have backed off and scattered. You'll catch a mixture of sunfish and smaller females now in the areas where only the big bulls were fanning a few weeks ago.
For The Lake Barkley Report
Click Here
For Other Kentucky Lake Fishing Reports
Click Here
Steve McCadams
is a professional hunting and fishing guide here in the Paris Landing area and host of The Outdoor Channel's television series IN-PURSUIT.