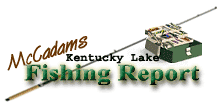 Brought to you by: Fishtale Lodge
Steve McCadams'
Kentucky Lake Fishing Report for:
May 9th, 2008
REDEAR REDHOT AS BULL BLUEGILL STAMPEDE ON KENTUCKY LAKE

From the shallow bays and pockets off the main lake come fast action and good times every year about this time.
Thanks to this weekís warm spell the bluegill and redear are tearing it up as peak spawning time arrives for these rusty rascals that sport an attitude. Coolers full of these popular panfish have been taken this week all across the reservoir as surface temps jumped into the 71 to 74 degree range and stimulated active spawning phases.
Action this week really improved over the previous week when cool conditions had a negative impact on the shallow bite.
Right now both the bull bluegill and the redear sunfish, commonly known as shellcracker, are really fanning their submerged craters around shallow grass, buck bushes, and open water flats where a sandy or mud bottom has small pea gravel mixed in.
The males are really showing their dark colors as pigment changes from hormonal influences indicate peak spawning is underway. The females display a lighter color and are really bloated with eggs.
Crickets have been the bait of choice lately with some shellcracker being caught on artificial larva or grub imitations along with wax worms and red worms. Most anglers are lying off the beds and casting ultra light tackle with slip bobbers or simple Carlisle style pencil floats that help indicate light strikes while regulating depth.
Casting a small leadhead with a cricket or grub attached is deadly too as dragging it along the bottom is often irresistible once you locate a bedding area. Still, the instant replay action of seeing that bobber disappear is pretty hard to beat for fun and excitement as it never seems to go out of style.
The next two to three weeks should be prime time barring any more uninvited visits from cold fronts that often bring a short hiatus to the hot action. Arm your tackle box with a few bobbers, split shots, long shank number six hooks and a pair of long nose pliers and youíre ready to do battle.
Itís a great time to introduce a young angler to sport, not to mention recultivating the passion of some old timers too. In addition to being fun to catch these rascals are great eating so donít let this fine fishing phase pass you by.
Meanwhile, lake levels on Kentucky Lake have settled down some after a quick rise and slow fall throughout the week in the aftermath of last Fridayís heavy rains and thunderstorms that drenched the area.
Elevation is expected to be at the summer pool level of 359 going into the weekend at New Johnsonville and only slightly higher at Kentucky Dam. The reservoir has been falling slowly all week after jumping almost a foot overnight after the runoff last weekend.
Surface temperatures are in the 71 to 74 degree range. Water color is clear in the main lake with some dingy color in the shallow bays but good overall as to fishing conditions.
Crappie are still scattered and in their typical post-spawn phase but some anglers have managed to score decent catches while stalking a variety of depths. Some main lake ledges in the 16 to 18 foot depth range gave up fish this week as did flats in the 10 to 13 foot range.
Slow trolling spider rigs and pulling some long lines with jigs has paid off as of late.
However, a few days Iíve seen some anglers casting gravel shorelines and shallow stickups where a few crappie continue to hang out. Not a large number of fish have been taken shallow but a few are still there, no doubt.
Look for more crappie to back off the banks in the weeks ahead and return to slightly deeper areas where manmade stakebeds and brushpiles in the 10 to 14 foot range should begin producing more numbers.
Bass action has held up well this week although the falling lake levels have pulled some of the larger fish out of shallow weeds and bushes where a few days earlier some hefty stringers were being caught.
A lot of smaller fish were hitting topwater with floating flukes and bubble gum colored worms fooling small fish into hitting. Pitching pumpkinseed colored crawfish and lizards has also been popular along shoreline habitat.
Some of the larger fish may have pulled out to gravel or rock points where Carolina rigs may produce, along with suspending jerkbaits or crankbaits and jig and pig combos. A few smallmouth were taking hair jigs cast on rocky banks.
Spinnerbaits and rattle traps worked in the back of bays were submerged milfoil grass is located continue to produce too. Several of the bays on the east side of the lake are harboring grass beds and bass.
Catfish continue to prowl around structure and rock banks as anglers fishing nighrcrawlers and shad guts were catching some dandies this week.
For The Lake Barkley Report
Click Here
Also check out our past:
Kentucky Lake Fishing Reports
Steve McCadams
Steve McCadams is one of the nation's best known Crappie Fishermen and a full time resident of Paris, Tennessee. Steve is also a professional hunting and fishing guide here in the Paris Landing area.