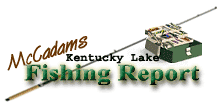 Brought to you by: Fishtale Lodge
Steve McCadams'
Kentucky Lake Fishing Report for:
May 9th, 2003
KENTUCKY LAKE ON THE RISE…ANGLERS FACE HIGH WATER
Fishing this week has been interrupted by the violent weather passing through the area. Anglers have dodged thunderstorms, lightning, and gale force winds with tornado warnings also entering the picture.
Wind warnings on area lakes have been part of the fishing scene for a few days but despite the strange weather some good stringers of bluegill, redear, and bass have been taken.
Spawning time is at hand for bluegill and redear (shellcracker) and action is good. If you're waiting for some good fishing opportunities for the whole family then wait no longer.
Areas such as Springville bottom (West Sandy) and bays and coves on the main lake will continue to produce good bluegill fishing this next week. The high water will be a factor but watch for the fish to move into some shallow areas if the water stays high for an extended period.
Bluegill are bedding in some 3 to 5 foot zones where sandy, gravel-type bottoms are found mixed with a little mud here and there. Many of the good beds will be out from the shoreline and in front of weedbeds and buck bushes.
Some redear are being taken around buck bushes mixed with grassbeds. And, a few of the deeper water shellcracker beds may be in 3 to 5-foot zones on the east side of the lake where clear bays have some aquatic vegetation present.
Crickets are the best bait going right now for the bluegill and redear but meal worms, redworms, and artificial nymphs or grubs will work too.
The popular style is casting light spinning tackle with 6-pound monofilament where a bobber regulates depth. Seeing the bobber fade away is part of the panfish mystery. However, you'll also catch a lot of fish by fishing the bottom and slowly retrieving the bait as you tightline it through the beds.
Male bluegill, or bulls as veteran anglers refer to them, sport a dark purple color and a burnt orange belly compared to the females, which have a pale yellow appearance.
Most anglers prefer to release the females and keep the males. This seems to keep the bedding areas active for anglers.
While fishing the bream beds you'll likely encounter other species such as a few yellow perch and a meandering catfish or two.
The other species move in and feed off the eggs and fry that are hatching. The bull bream act as defenders of the nesting areas, which is why action can be so fast and furious for anglers tossing bait their way.
Bass action continues to hold up very well. A lot of shallow water action is underway as the fish relate to the abundant shoreline habitat such as buck bushes, willow trees, and grassbeds.
Anglers tossing tube baits, lizards, worms, spinnerbaits, and various topwater lures are catching fish. When lake levels rise above summer pool there is a multitude of habitat for both the fish and anglers.
Water has been clear across much of the reservoir but the heavy rains earlier this week, combined with some high winds, have created some stain in some bays and creeks.
Expect lake levels to rise this weekend due to heavy rains. TVA is predicting the reservoir will reach the 363.2 level at New Johnsonville this weekend, which is four feet above summer pool! Kentucky Dam is expected to see lake levels in the 361 range. Surface temperatures have been in the 67 to 71 degree range.
Catfish are also on the prowl. Action has improved in many feeder creeks and along spawning areas such as rock banks and levees. Several fish were caught this week along the Ned McWherter Bridge rip-rap on both the Paris Landing side and the Stewart County side.
Such bait as nightcrawlers, beef liver, and shrimp have been producing. Watch for some great catfish action this next week.
For The Lake Barkley Report
Click Here
For Other Kentucky Lake Fishing Reports
Click Here
Steve McCadams
is a professional hunting and fishing guide here in the Paris Landing area and host of The Outdoor Channel's television series IN-PURSUIT.