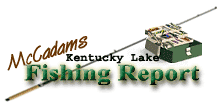 Brought to you by: Fishtale Lodge
Steve McCadams'
Kentucky Lake Fishing Report for:
May 7th, 2004
BLUEGILL BEDDING UNDERWAY
After yet another uninvited cold front early this week, Kentucky Lake fishing bounced back strong as warm weather returned.
Anglers had to dig deep into the closet early this week as the overcoat made another appearance. A brisk northwest wind had an adverse affect on the fish for a couple of days too as bass, bluegill, and crappie seemed to have temporary lockjaw. Those high skies and high pressure seemed to turn the bite off Tuesday morning but by Wednesday things were back to normal.
Surface temperatures rebounded quickly and are now in the 68 to 71-degree range. Some shallow bays will likely warm even more as the forecast indicates warm weather is ahead through early next week.
Watercolor is stained in the main Tennessee River area and in some shallow pockets off the main lake where high winds early this week whipped up the banks. Much of the main lake portion of Big Sandy is still clear except for dingy water up near the New Hope area and further south into the gravel pits.
Lake elevation will be 358.8 this weekend at New Johnsonville. TVA indicates water levels in the Kentucky Dam area will be 359. The reservoir is expected to remain stable throughout the weekend and into early next week.
Bluegill and red ear (shellcracker) are bedding and fishing has been good. Anglers are catching large numbers around shallow grass beds, buck bushes, and sandy, gravel shorelines back in the bays or pockets off the main lake.
Some good catches have also come from West Sandy this week as ample water remains behind the levee at Springville pumphouse. The pumps are running and dewatering the area slowly so anglers can catch some fish both in the bottom and around the pump discharge on the main lakeside.
Crickets have been the bait of choice but night crawlers and wax worms are also producing.
Action will heat up this week even more as warm weather and a full moon are on the agenda.
The next few weeks will be prime time for catching bluegill and shellcracker on light tackle. Donít let this good fishing spree pass you by!
Bass fishing has been fair and should improve this week as stable lake levels and warm weather work in favor of anglers attempting to pattern the fish. This week has been confusing to the fish that seemed to back out of the shallow bushes and visible grass beds when the cold front arrived.
Some small fish were coming from shallow structure in the backs of bays but the larger fish had moved out to submerged grass beds and wood.
Watch for action to resume in shallow shoreline buck bushes and weeds this week. Some bass are on the bed and acting finicky, however.
Popular lures this week have been lizards, crawfish, and worms in the pumpkin-pepper, red-shad, and black and blue colors. Also popular have been Zoomís Brush Hog and Strike King jigs tossed around wood.
Some fish are taking white and chartreuse skirted spinnerbaits worked around submerged grass and yellow flowers.
Topwater action has been off but will likely improve this weekend. Popular choices should be flukes, stickbaits, and floating lizards, along with some buzzbait action on cloudy days.
Crappie fishing has been fair as the fish continue to scatter during their post-spawn phases. A few good-sized fish have been taken in the 9 to 13 foot zone where stumps, brush, and manmade fish attractors are located.
Jigs tipped with shiner minnows have worked well. And, just a live minnow by itself has fooled several fish this week.
Effective color combinations have been chartreuse leadheads with dull colored skirts such as motor oil, or smoke with silver flake.
A few anglers are still drifting and trolling where suspended crappie are taking moving baits out on the main lake in the 10 to 14 foot zone. A few anglers are trolling big crankbaits and catching crappie too.
Catfish action has improved and the fish are headed toward shallow water. Some dandies have been caught this week around rock banks and shallow mud flats. Several catfish are hitting the hooks of bluegill anglers too as the crickets will fool them as well.
Many catfish move in and around bluegill beds once the fish begin laying eggs. The catfish sometimes prowl around the bluegill craters and feed on the tiny fry that hatch but they also feed on the other small fish who are there robbing the bluegill eggs as well.
The bluegill beds are full of such species as yellow perch and golden shiners, both of which appeal to hungry catfish and bass.
Fishing has improved and the extended forecast calls for warm weather. Donít put your fishing trip off!
For The Lake Barkley Report
Click Here
Also check out our past:
Kentucky Lake Fishing Reports
Steve McCadams
Steve McCadams is one of the nation's best known Crappie Fishermen and a full time resident of Paris, Tennessee. Steve is also a professional hunting and fishing guide here in the Paris Landing area.