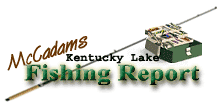 Brought to you by: Fishtale Lodge
Steve McCadams'
Kentucky Lake Fishing Report for:
May 6th, 2005
This weekís fishing report has warm weather returning and sunny days in the forecast. Thatís good new for anglers who have braved cool temperatures and wind for the last week or two.
Kentucky Lake is falling slowly after more than a week above summer pool levels. Surface temperatures are also on the rebound.
Action is very good on bluegill and several shellcracker are hitting as well. Thanks to warm, sunny days these powerful panfish have gone back on beds and fanning the submerged craters as the peak of spawning gets underway.
Some hefty catches have been taken the last few days in 3 to 5 foot depths where bushes and submerged grass are nearby. A lot of the larger male bluegill were taking crickets in an aggressive manner the last few days, providing a ton of fun with every bend of the rod.
Expect some good action on bluegill and shellcracker for the next few weeks. Donít let this great fishing phase pass you by. Those bobbers disappearing never seem to go out of style.
Crappie action has been slow the last few days as fish were quite scattered due to the rising lake levels, cooler than normal surface temperatures, and post-spawn stress. Seems most of the fish were suspended and not relating to structure but that may improve now that warmer weather and falling lake levels have returned.
Some fish were in the 12 to 15 foot depths earlier this week but since the lake is returning to the summer pool level the fish are likely to resume a more structure oriented pattern.
Some crappie were taking jigs tipped with live minnows but the bites were quite light as fish were stubborn to strike. A few fish were taking jigs tipped with Berkley Power Bait when vertical fished slowly over stakebeds and brushpiles.
Action had also slowed for those anglers trolling jigs up Big Sandy. It seems a lot of the crappie that were in the midrange depths around Country Junction and New Hope had scattered this week.
Crappie action will improve some over the next week or two as the fish settle down from the spawn.
Bass activity has been good for shallow water anglers who love tossing a variety of lures at shoreline habitat. The higher lake levels this week offered a lot of cover to bass roaming the weedbeds, willow trees, buck bushes, and treelaps.
A lot of male buck bass in the 1 to 2 pound range have been jumping on topwater, spinnerbaits, and Texas rigged lizards and worms.
Some anglers have backed off and thrown Carolina rigs on points and out from the visible structure of shorelines in hopes of finding some bigger fish that stayed put during the rising lake stages.
With the return of normal summer pool elevation anglers can expect some good fishing around outside shoreline cover and weedbeds. Floating worms, flukes, lizards and various jerk baits will produce some strikes this week as the water color is quite clear throughout Big Sandy.
Catfishing has improved since last week as the fish continue to move up shallow and search for spawning habitat. Rock banks and rip-rap levees will produce some good action in the next week or two.
Some stained water is present in the Tennessee River and in the small pockets off the main lake.
Surface temperatures were rebounding all week and had climbed back to the 67-degree range at midweek. Look for surface temps in the low 70ís by the weekend as warm weather is on the horizon.
Kentucky Lakeís elevation was falling slowly with a prediction of 359.2 going into the weekend.
Overall, lake levels are returning to normal and fishing patterns are following suit.
For The Lake Barkley Report
Click Here
Also check out our past:
Kentucky Lake Fishing Reports
Steve McCadams
Steve McCadams is one of the nation's best known Crappie Fishermen and a full time resident of Paris, Tennessee. Steve is also a professional hunting and fishing guide here in the Paris Landing area.