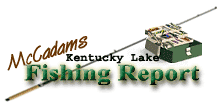 Brought to you by: Fishtale Lodge
Steve McCadams'
Kentucky Lake Fishing Report for:
May 4th, 2008
COOL SNAP/HIGH WINDS DELAY BLUEGILL/BASS BEDDING...WARM WEATHER ON THE HORIZON

A cool snap this week has curtailed bedding activity for both bass and bluegill to some degree as surface temps have been a bit below normal. Two different cool fronts have influenced surface temps this past week and anglers had to dig out the jackets most days.
It appears warm weather will return this week as the 5-day forecast shows a stable warming trend on the horizon which should help anglers return to normal fishing conditions as last week saw a combination of high winds and cooler than normal temps that did not help the bite.
Heavy thunderstorms Friday night dropped a lot of rain on the area and lake levels have jumped about a foot since the middle of last week. However, a slow fall is now underway.
Water color has some stain in the upper ends of bays after the runoff from thunderstorms Friday night.
Lake levels jumped about a foot the last few days in the aftermath of heavy rains and thunderstorms that delivered a lot of runoff. Some areas had in excess of 3 inches of rain Friday night but since then high skies have returned and rain has moved out of the area with warm weather in the forecast.
Present lake levels in the New Johnsonville area are 359.9 and falling slowly with a projection of 359.4 by Tuesday. At Kentucky Dam the elevation is 360 and falling to 359.7 by Tuesday. (Those readings about more than a foot above what they were last week at this time.)
Surface temps cooled the last few days due to another cool snap---the second one this week---that has kept water temps in the 67 to 69 degree range most of the week. Bluegill and redear (shellcracker) need to have surface temps in the 71 to 75 degree range for best results as to spawning phases as it appears the fish backed off beds this week in response to the colder weather.
Both bluegill and bass should show improvement in the days ahead. Crappie should do better too but will likely remain scattered for another week or so until post-spawn phases fade away and fish return to a more structure oriented mode.
Anglers had another week of strange spring weather that once again altered fishing conditions. High pressure had a negative influence on bluegill, bass, and crappie anglers this weekend as the high skies and northwest winds seemed to turn the shallow fish off. Watch for that to change quickly in the days ahead if the predicted warm up arrives and surface temps climb to the lower 70's and stay there.
A cold front slipped in the door last Monday and according to the National Weather Service set a record low Monday night in some areas with the mercury dipping to 32 degrees. By Wednesday temps rebounded to 70 degrees courtesy of gale south winds that whipped the lake with whitecaps. However, another cool snap entered the picture Saturday morning after inclimate with thunderstorm and tornado warnings Friday night escorted the cool snap that is still here today (Sunday).
In the bluegill/redear department crickets continue to be the bait of choice with a few fish taking redworms and wax worms. Although the bite has been off this past week, look for action to improve in the days ahead as the fish resume fanning those craters in shallow gravel areas.
Bass have been fanning their beds too and several anglers are having trouble catching fish in shallow areas. Most say they're seeing fish on the bed in dead grass and shallow buck bushes but the fish won't hit.
A few larger fish have been taken by anglers backing off the banks and casting Carolina rigs and tossing jigs around gravel points near deep water where some fish are staging in a prespawn pattern. No doubt the cold front earlier this week backed a few fish off the banks but watch for that to change quickly in the days ahead.
Most anglers were flipping and pitching crawfish, jig/pig, and lizards imitations around buck bushes and dead grass around small pockets and bays off the main lake. Spinnerbaits were working too as were Chatterbaits, floating worms, and some suspending jerk baits.
Several bass fishermen resumed topwater presentations this week with the warm up and some fish were responding on cloudy mornings to buzz baits, floating worms, and assorted jerk baits.
Catfish were hitting pretty good along rocky bluffs and inside feeder creeks. Some bank fishermen were still finding fish around rock levees.
Crappie appear to be in a post-spawn phase and have been somewhat scattered this week with a combination of depths producing fish from anglers searching everything from shoreline to main lake ledges.
A few good catches were taken in stakebeds and brushpiles where depths of 5 to 10 feet were giving up fish. Most anglers were tightlining jigs tipped with minnows with popular colors ranging from pink/pearl to brown/chartreuse.
A few crappie were taken on gravel banks last week where anglers were casting chartreuse twister tail jigs toward shoreline. Several male crappie are still lingering there but were scattered.
Some crappie continue to linger on the main lake ledges and depths of 14 to 16 feet were giving up some decent size ones but not much quantity.
It's not unusual for crappie to scatter during post-spawn and take on a finicky mood for a week or two. That appears to be the case right now but watch for fish to settle down in the next week to ten days and congregate more around structure.
Meanwhile, some nice stringers of crappie were coming from behind the levee at Springville pumphouse. The West Sandy WMA area has been flooded most of the spring and restocked during the high water periods when Kentucky Lake was on a tear.
Right now the water is high in the backwaters of West Sandy WMA since the flooding from Friday night thunderstorms.
Watch for some good bluegill and crappie fishing there in the weeks ahead.
For The Lake Barkley Report
Click Here
Also check out our past:
Kentucky Lake Fishing Reports
Steve McCadams
Steve McCadams is one of the nation's best known Crappie Fishermen and a full time resident of Paris, Tennessee. Steve is also a professional hunting and fishing guide here in the Paris Landing area.