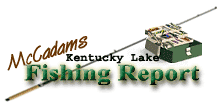 Brought to you by: Fishtale Lodge
Steve McCadams'
Kentucky Lake Fishing Report for:
May 4th, 2006
BLUEGILL BEDDING TIME ARRIVES…BASS AND CRAPPIE ACTION GOOD
Spring fishing is alive and well here on Kentucky Lake. Bass anglers are scoring some hefty catches as are crappie anglers who have experienced a better harvest than last year at this time.
Added to the list comes peak spawning time for bluegill who are right on time with their bedding efforts as are the redear sunfish, referred to locally as shellcracker.
Anglers this week have had a mixture of windy days and calm conditions but overall the fishing continues to hold up. This time of year you just need to keep the raincoat with you at all times.
Water levels are holding relatively stable across the reservoir this week. The New Johnsonville area is right at the summer pool mark of 359 as is the Kentucky Dam sector. Only minor fluctuations are occurring and the reservoir may fall a few inches this weekend.
Clear water remains across most of the lake with a few exceptions around main lake points and pockets where high winds have whipped up shoreline sediments.
Surface temperatures are in the 71 to 74 degree range, which is good for bluegill and red ear bedding.
Anglers who want to tangle with the big bull bream, which is another southern term, can expect action to be good for the next two or three weeks. The fish are biting fast and furious when a cricket, red worm, wax worm, or grub imitation comes their way.
While some of the larger bluegill are a out from weedbeds and buck bushes a few feet, most of the redear will be relatively tight to structure. That means snagging the bobber and hook a few times in your quest to hit those tight spots.
Now is a great time to get that young boy or girl in on some fast fishing action. Keep the soda pop cold and the fishing action hot. That way, everyone is happy!
Bass anglers are catching a lot of fish from shoreline habitat this week. Those weed beds, buck bushes, and willow trees are holding fish as are shallow crappie beds and other stickups just out from the shoreline.
Popular lure choices continue to be Texas rigged worms and lizards in green pumpkin-pepper, red shad, Tequila sunrise, black, and black and blue combinations, just to name a few.
Chartreuse and white spinnerbaits are working well as are other skirts sporting a gold flake with various trailers in white and chartreuse. I've fished some willow leaf and Colorado blades and had luck on both on ¼-ounce size baits lately.
Topwater action has been good too, especially on those cloudy days. A lot of fish are hitting floating fluke style worms as that slow sinking jerk and soft entry in shallow water is deadly this time of year.
Jerk baits such as Bagley's Bango, Storm's Chugg Bug, Rebel's Pop-R, and Cordell's Crazy Shad are some popular choices. Color variations do make a difference on surface plugs and while shad colored finishes are hard to beat, there are times then those fish will roll at one color but tag the other.
A few anglers continue go back off the banks and toss Carolina rigged lizards on sloping banks off the main shore or near the mouth of small pockets. Some of the larger fish will pull back there as waters warm, although tossing at that shoreline is sure tempting this time of year.
Some smallmouth have been taken as anglers work big crankbaits, Carolina rigs, and small finesse baits on deeper ledges. Still, smallmouth remain illusive for most anglers lately who are concentrating more on the multiple bites underway by largemouth and Kentucky spotted bass.
Catfish are heading to the rock banks and shoreline anglers will see a real improvement in the next week or two. The male cats are already dark blue, showing hormonal changes just like the crappie do at peak spawning time.
Watch for the rip-rap levees and slate rock banks to produce this week. The catfish are there searching those crevices for good spawning territory.
Decent stringers of crappie continue to show up from the 10 to 14 foot zones. That midrange structure has been reliable for anglers the last two weeks and continues to produce.
A few fish are coming from deeper ledges on the main lake too. Some crappie were scattered but relating to deep brush and stumps in that 20-foot zone this week.
Live shiner minnows are working well as are small jigs in the 1/16 and 1/32-ounce size range. Tipping unpainted leadheads with small minnows has produced. Sometimes taking that tube skirt off can offer a smaller and more appealing presentation for finicky, post-spawn crappie.
Fishing has been good so get out there and take advantage of it. If you listen closely you can hear the fish calling!
For The Lake Barkley Report
Click Here
Also check out our past:
Kentucky Lake Fishing Reports
Steve McCadams
Steve McCadams is one of the nation's best known Crappie Fishermen and a full time resident of Paris, Tennessee. Steve is also a professional hunting and fishing guide here in the Paris Landing area.