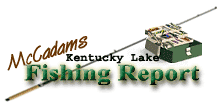 Brought to you by: Fishtale Lodge
Steve McCadams'
Kentucky Lake Fishing Report for:
May 3rd, 2007
BLUEGILL SPAWN UNDERWAY…FAST ACTION AWAITS ANGLERS
Right now you can have about as much fun as you'd like fishing Kentucky Lake bluegill beds. The spawn is red hot and action is fast and furious.
Just ask 9-year old Meagan Sewell of Paris, who teamed up with her grandfather Dennis Bohnert, to wet a line Monday afternoon. After a few practice casts with her spinning rod and reel combo she was battling hungry bluegill as they submerged her orange bobber in pursuit of tasty crickets.
Bluegill on the bed and kids go together like peanut butter and jelly. After a few tugs on the line young Meagan quickly came under the spell of fishing. She attends Lakewood School where the 3rd grader said she kind of liked this fishing thing.
Some 20 bluegill later and she was a veteran angler, although it was only her second fishing trip ever. She seems to be hooked.
Meanwhile, her mom Nancy heard some fish tales over the cell phone right from the boat and her dad Matt, who is a marine in the Iraq war, will be getting some photos via email of her big fishing trip on Kentucky Lake.
Redear sunfish, better known as shellcracker here in the south, are also at peak spawn and ready to make your bobber disappear and test the knot on your line. These babies are tackle testers and sport a hefty size and appetite this time of year.
Once surface temps reach the 66 to 70 degree range these powerful panfish begin fanning their small craters around sandy or small gravel substrates. It's there where egg deposits are made and the larger adult fish reside for a short period, taking on a rather territorial mood in defense of their nest.
Try tossing a cricket, red worm, meal worm, or artificial imitation in their locale and you'll quickly find a fight to the finish gate keeper in the form of a big dark rusty bull bluegill or a handsome olive drab shellcracker.
This week the action has been quite good as nice weather has really stimulated the bedding phase. A full moon entered the picture earlier this week and that also tripped the switch for spawning phases to begin.
Action will likely hold up well for the next few weeks but right now, the bluegill and shellcracker action is about as good as it gets here. Weather is always a factor as the fish stay quite active during warm spells while a cold front and falling surface temps can bring a temporary hiatus to peak spawning.
You'll find the feisty fish awaiting your arrival around the two to five foot depth range in small bays or pockets off the main lake. Look for a mixture of grass and bushes and work the parameter of the grassy areas.
The water is quite clear now and with polarized sunglasses you can spot a lot of the light spots or craters where the fish are fanning. While the shellcracker are more finicky and often relate to buck bushes or various aquatic vegetation, bluegill will bed out in the open water away from shoreline.
Laying back and casting light spinning tackle works best as you can't get too close to the beds without spooking the fish.
Tackle choices need to include long nose pliers, small lead split-shots, long shank number six bait keeper hooks and the bobbers of your choice. Small spin cast or ultra-light rods and reels work great for this style of fishing with monofilament line choices in the four to six pound range working great.
Not only are these popular gamefish fun to catch but great to eat as well. The small fillets will tip your taste buds when fried up golden brown.
Don't let this great fishing phase pass you by. Fishing the peak of spawning for bluegill and redear is a great time to introduce a youngster to the great sport of fishing. And, it kind of brings out the kid in all of us old timers too!
What you waiting on anyway? The fish are sending you an invitation to join them so hop to it.
# # #
Elsewhere on the fishing scene finds bass action holding up quite well as anglers have landed some big numbers of fish this week. Crappie have been improving in midrange depths, especially on cloudy days that appeared to stimulate the bite.
Catfish are heading toward rock banks and already showing up in good numbers where bank fishermen are cashing in as the fish seek out spawning territory in the rock crevices.
Overall fishing conditions have been good this week for a variety of species as warm weather and stable lake levels have been kind to fishermen. Calm winds and cloudy days have been good too.
Water color remains clear.
Lake levels in the Paris Landing area and elsewhere on the reservoir are lingering around the summer pool mark of 359.
Surface temps have warmed since last week with most of the reservoir showing readings in the 67 to 72 degree range.
Several bass have been on the bed this past week as females were really relating to grassbeds where buck bushes and willows mixed in offered prime cover. Bedding fish have been visible in small pockets off the main lake and up in the backs of large bays.
It appears Kentucky Lake has a healthy population of two and three year old bass as those age classes are really abundant. Anglers were catching 25 to 30 bass a day this week using a variety of patterns.
Tossing floating worms such as Slugo, Mann's Shadow, and Gary Yamamoto's fluke style baits have been deadly choices this week as have Zoom lizards and Yamamoto's senko style worms.
The finesse style baits are working very well as anglers toss them in shallow water without scaring fish. Working them up under boat docks and piers has worked too.
Popular color choices have been red shad, watermelon with red glitter, green pumpkin-pepper, and cotton candy.
The bass are really using weedbeds and buck bushes and several topwater jerk baits have also produced such as Storm's Chug-Bug and Thunderstick, Bagley's Bang-o, and Rapalas, just to name a few.
Some anglers are working Texas rigged worms and lizards while pitching and flipping around blowdowns and deeper bushes.
Other patterns producing have been Carolina rigged lizards worked slowly off sloping gravel points as some fish begin to pull away from shore in their post-spawn phase. A few larger fish appear to be moving back toward deeper water away from shoreline cover.
Crappie were finicky earlier in the week when high skies seemed to slow down the bite. However, by midweek the cloudy days saw significant improvement in the 11 to 14 foot zones where stakebeds and brush piles produced decent numbers. A few fish were also taken on deep ledges out on the main lake where depths of 20 to 25 feet were still giving up fish on chartreuse variations of jig skirts.
Catfish are showing up at Danville railroad levee, U. S. Highway 79 rip-rap levee, and up Big Sandy around the little rock island near Sulphur Well Island. Other rock banks are seeing improvement as well.
The bottom line is that fishing is good and whether you like bass, crappie, bluegill, or catfish, it seems now is the time to go.
For The Lake Barkley Report
Click Here
Also check out our past:
Kentucky Lake Fishing Reports
Steve McCadams
Steve McCadams is one of the nation's best known Crappie Fishermen and a full time resident of Paris, Tennessee. Steve is also a professional hunting and fishing guide here in the Paris Landing area.